Angel Prieto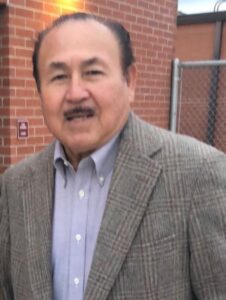 Angel Prieto, Age 74 of Kenedy, TX passed away Friday, December 24, 2021 in San Antonio, TX.  Angel was born on August 2, 1947 to the late Juaquin Prieto and Estefana Briseno Prieto.  He married Francisca Rodriguez on January 25, 1970 in Kenedy, was a retired welder, loving husband, father, grandfather, great-grandfather, uncle and friend to many and a member of Our Lady Queen of Peace Catholic Church.  He is preceded in death by his parents, Juaquin and Estefana Briseno Prieto; sisters, Alejandra Aguilar, Adela Juare, Petra Saenz; brothers, Andres Prieto, Jose Prieto, Jaime Prieto, Pascual Prieto and Juaquin Prieto.  He is survived by his loving wife, Francisca Rodriguez Prieto of Kenedy; children, Michael Ray Prieto of Kenedy, Dianna Garcia and husband Jerry of Kenedy, Cynthia Prieto of Kenedy, Patricia Ann Prieto of Kenedy; brothers, Esteban Prieto and wife Minerva of Kenedy, Juan Prieto and wife Martha of Jourdanton, 10 grandchildren and 6 great-grandchildren.  A Holy Rosary will be recited Tuesday, January 4, 2022 at 7:00 P.M. in the Eckols Funeral Home Chapel.  Funeral Mass will be celebrated Wednesday, January 5, 2022 at 10:00 A.M. at Our Lady Queen of Peace Catholic Church with the Rev. Norbert Hermann officiating.  Interment will follow in the Sacred Heart Cemetery in Kenedy, TX.
Serving as Pallbearers: Joaquin Prieto, Jr., Juan Prieto, Jr., Paul Rodriguez, Omar Juare, Roland Juare and Erasmo Ramos.
Honorary Pallbearers: Andrew Byrd, Michael Ray Prieto, Jr., Daniel Reyna, Jordan Jimenez and Chris Cortez.