Juan (Johnny) Barrera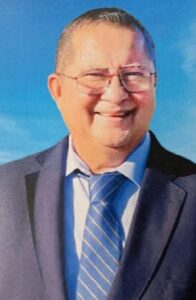 Juan (Johnny) Barrera, age 70, of Centralia,Missouri  passed away on November 10, 2021 at University Hospital. He was born on May 22, 1951 in Kenedy, Texas; a son of Martin Barrera Sr. and Rosita Reyna Barrera.
As a young man, Johnny worked for many years managing restaurants in the San Antonio area as he strove to complete his education, first earning an associates degree in business from Bee County College, and then a degree in nursing from San Antonio College. Johnny worked as a Registered Nurse at Warm Springs Rehabilitation and Methodist Hospital in Texas for many years. After relocating to Missouri, he worked for 25 years as a registered Nurse in the Cardiac Cath Lab at University Hospitals and clinics.
Johnny loved everything involving farming, ranching, conservation and wildlife, including fishing, hunting, hiking, and caring for his horses, cattle, and dogs. Johnny also enjoyed grilling, listening to country music, traveling and most importantly spending time with his family.
Johnny is survived by his Mother: Rosita R. Barrera of Karnes City, Texas; three daughters:  Kim Saucedo (Rene) of San Antonio, TX; Nancy Messex of San Antonio, TX, Clarissa Barrera of Centralia, Missouri; a son: Jose Barrera of Centralia, Missouri; three sisters: Irene Tamez (Leonard) of Longview, TX, Arlene DeLosSantos (Rudy) of Victoria, TX and Angie Castillo (James) of Kenedy, TX; a Brother: Martin Barrera Jr. (Veronica) of Austin, TX; grandchildren: Jennifer, Gabrielle, Kimarie, Rene, Kylie, and Arianna; great grandchildren Vincent, Lucian, Loki and Kitty and numerous nieces and nephews. Juan was preceded by his father: Martin Barrera, Sr. and nephew Juan Mateo (Matt) Tamez.
Visitation will be held on Friday, November 19th, 2021 from 5:00p.m. to 8:00p.m. at Eckols Chapel with a Rosary to be recited at 7:00p.m. at Eckols Chapel. Funeral services will be held on Saturday, November 20, 2021 at 10:00a.m. at St. Cornelius Catholic Church in Karnes City, TX. (Services to conclude at church). Private Inurnment to be held at a later date.