Lillie Janssen Alvarez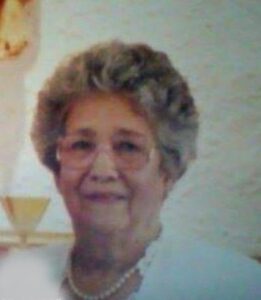 Lillie Janssen Alvarez, Age 94 of Kenedy, TX passed away on Saturday, September 4, 2021 at home surrounded by her loving family.  Lillie was born on November 2, 1926 in Kenedy, TX to the late George, Sr. and Francisca Marines Janssen.  She was a loving wife, mother, grandmother, great-grandmother, sister, aunt, friend to many and a member of Our Lady Queen of Peace Catholic Church.
She is preceded in death by her husband Teodoro Alvarez, Sr.; parents, George, Sr. and Francisca Marines Janssen; and infant sister; brothers, George Marines Janssen, Willie Janssen, Otto Janssen, Henry Janssen, Rudolph "Ruddy" Janssen, Johnny Janssen; and son-in-law Benito Moreno.
She is survived by her children, Frances Alvear and husband Soilo of League City, TX, Oralia Moreno and husband Benito who preceded her in death of Missouri City; sons, Theodore Alvarez, Jr of Kenedy, Alfredo "Freddy" Alvarez and wife Adela of Pawnee, Ernesto Alvarez of San Antonio, numerous grandchildren, great-grandchildren and extended family members.
A Holy Rosary will be recited Wednesday, September 8, 2021 at 11:00 A.M. with Services to be celebrated Wednesday, September 8, 2021 at 11:30 A.M. in the Eckols Funeral Home Chapel with Deacon Guadalupe Cantu officiating. Interment will follow in the Loma Alta Cemetery in Kenedy, TX.
Serving as Pallbearers will be her Grandchildren.