Ida Marie Madsen Bingham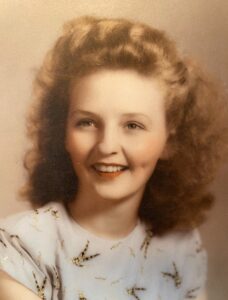 Our beloved mom (Mamaw) Ida Marie Madsen Bingham (age 93) passed away peacefully from this world on March 11, 2021 surrounded by her children. She is now rejoicing with her Savior, Jesus. She was born January 4, 1928 in Pawnee, Texas to parents Martin Madsen and Signe Carlson Madsen. She married the love of her life, Robert Bingham on February 25, 1947 in Kenedy, Texas. They were married 64 years and spent most of their life in Kenedy, Texas before moving to Boerne, Texas in 2004 to be close to their children. She worked for over 30 years in the healthcare industry for hospitals and doctors in Victoria, Texas and Kenedy, Texas. This career fit her perfectly because she cared for people and always had a listening ear to their needs. Ida is preceded in death by her loving husband, Robert in 2012 and her daughter, Janet Bingham Switalski in 2020. She is survived by her children: Lana Green (Craig) of Fair Oaks, Texas; Elaine Ahrens (Roger) of Georgetown, Texas; Robert Bingham (Nola) of Houston, Texas; 8 grandchildren: Dana Green Heffernan (Paul) of Fair Oaks, Texas; David Green (Cheri) of Fair Oaks, Texas, Heather Smith (Landon) of Liberty Hill, Texas; Brannan Ahrens(Erica) of Georgetown, Texas; Daniel Bingham of Jarrell, Texas; Alison Jacobson (Scott) of Aledo, Texas; Mark Petree of Red Bay, Alabama; Nathan Petree (Anna) of Burnsville, Mississippi. She is also survived by her amazing great grandchildren: Zach and Clare Heffernan; Tyler and Logan Green; Chloe and Finley Smith; Braxden Ahrens; Luke and Julia Jacobson and a new precious one to be born in August. Her grandchildren and great grandchildren always were such a joy that made her heart happy. Ida was a beautiful soul. Family was everything to her and she always put everyone else's needs above her own. Her kindness never went unnoticed to all who were around her and so many people loved her so very much. She was the best wife, mother, grandmother and great grandmother anyone could ask for. After her husband passed away she went to live with her daughter in Georgetown, Texas. While there she was able to attend Community Bible Study for 4 years which was such a blessing to her. She loved the Lord with all her heart and enjoyed meeting new friends that she could praise and worship God and study the scriptures. She wanted to live her life pleasing to the Lord and be a light for him to her family. She will be greatly missed by so many but our memories with her will resonate in our hearts daily. We love you Mom, Mamaw!
Phillippians 4: 6-7
Do not be anxious about anything, but in every situation, by prayer and petition, with thanksgiving, present your request to God. And the peace of God , which transcends all understanding, will guard your hearts and your minds in Christ Jesus.
Visitation will be held on Monday, March 22, 2021 from 1:00p.m. to 2:00p.m. at Eckols Chapel. Funeral services will begin promptly at 2:00p.m. at Eckols Chapel with Rev. Trey Hill officiating. Interment to follow at Choate Cemetery, Choate, Texas. Memorials may be made to Crestview Baptist Church, Georgetown,TX or the Choate Cemetery Association.
Pallbearers: David Green, Paul Heffernan, Brannan Ahrens, Daniel Bingham, Mark Petree, Nathan Petree.