Oscar Gonzalez Garcia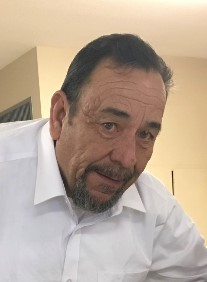 Oscar Gonzalez Garcia, age 62, passed away peacefully February 13, 2021.   He was born July 28, 1958 to the late Joe and Frances Garcia. Oscar was an Electrician who loved his family and was of the Catholic Faith. Oscar is preceded in death by his parents, Jose Perez and Frances Gonzalez Garcia; brothers, brothers, Alex Garcia and Johnnie Garcia.  Oscar is survived by his two daughters Stephanie Soto and Marisela Frances Garcia, his two sons Oscar Garcia Jr and Justin Jacob Garcia, his sister and husband Velma and Joe Garza, brother and wife Israel and Rachel Garcia, sister and husband Mary Ann and Anthony Peres, brother and wife Jerry and Diana Garcia, brother and wife Michael and Leslie Garcia, brother and wife Joe Angel and Audrey Garcia, brother David Garcia, five grandchildren and many nephews and nieces.  Family & friends are invited to attend visitation hours on Sunday, February 21, 2021 from 1:00 p.m. to 6:00 p.m., at Eckols Funeral home in Kenedy, Texas.  The rosary will be held at 6:00 p.m. on Sunday, February 21, 2021.  The funeral mass will be held on Monday, February 22, 2021 at 10:00 a.m. at Our Lady of Peace Catholic Church in Kenedy, Texas and his final resting place will be at Sacred Heart cemetery.  Please join us after the burial for lunch at Our Lady of Peace Catholic Church hall.
Serving as Pallbearers: Timo Villanueva, Del Villanueva, Diego Garza, Lee Pena, Donald Villanueva, and David Villanueva.
Honorary Pallbearers: Joe Fuentes and Rudy Casarez.
***Due to the current Covid-19 pandemic you will be required to wear a face mask covering to enter the Building/Chapel to attend the Visitation or Services of Mr. Oscar Gonzalez Garcia and practice Social Distancing for the safety of the GARCIA FAMILY and those attending. Thank you for your cooperation and respectfulness – The Staff of Eckols Funeral Home, Inc. ***