Brandon Keith Rodriguez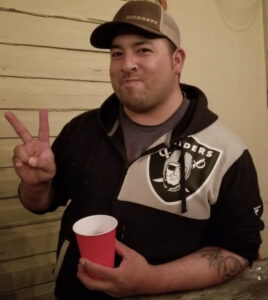 Brandon Keith Rodriguez, Age 31 of Kenedy, TX passed away Sunday, December 13, 2020. Brandon was born on January 3, 1989 in Kenedy, TX to Richard Rodriguez and Monica Fields. He was an Equipment Operator for U.S. Ecology a loving Father, Son, Brother, Grandson, Uncle, Nephew, friend to many and of the Catholic Faith.
He is preceded in death by his Paternal Grandfather Domingo J. Rodriguez.
He is survived by his Mother, Monica Fields and husband Darren; Father, Richard Rodriguez and wife Sandy, daughters, Madison Marie Antoinette Rodriguez, Emmalynn Anastacia Rodriguez; brother, Nicholas "Nick" Rodriguez; step-sisters, Sarah Fields, Tiffany Fields; step-brother, Jacob Fields; Paternal Grandmother, Doris S. Rodriguez; nephew, Dalton Aaron Paul Rodriguez; numerous Aunts, Uncles, Cousins and Friends.
A Holy Rosary will be recited Friday, December 18, 2020 at 7PM in the Eckols Chapel. Funeral Mass will be celebrated Saturday, December 19, 2020 at 11AM at Our Lady Queen of Peace Catholic Church with the Rev. Norbert Hermann Officiating. Interment will follow in the Loma Alta Cemetery in Kenedy, TX.