Dolores R. Lopez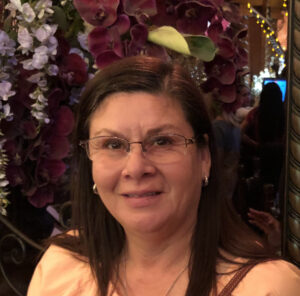 Dolores R. Lopez was granted her wings on November 24, 2020. She was born in Kenedy, Texas to Ernesto and Ofelia Rodriguez Lopez on September 9, 1964. Dolores was 56 years old when she entered eternal life. She is preceded in death by her parents. She is survived by her son and wife, Dennis and Jackie Lopez, her two grandsons, Patrick and Aaron Lopez of Kenedy, Texas, sisters, Sylvia Dobbs of Sharon Springs, Kansas, Bertha Thomas of Kenedy, Texas, Rosario(Connie) Garza of San Marcos, Texas, brothers, Ernesto Lopez, Jr., Fernando (Cindy) Lopez, Gabino Lopez all of San Antonio, Texas, Julio Lopez and Miguel Lopez of Kenedy, Texas and her many nieces, nephews, and other family members.
Dolores touched many lives and was a friend to many. She will be dearly missed. Her favorite verse from the bible was one that she tried her best to live by: EPHESIANS 4:32- Be kind and compassionate to one another, forgiving each other, just as in Christ God forgave you.
Visitation will be held Tuesday, December 1, 2020 from 5PM to 7PM with a Celebration of Life Service at 7PM in the Eckols Funeral Home Chapel with the Rev. Walter Hill, III and Ernesto Lopez, Jr. officiating.