Thomas Walter Keller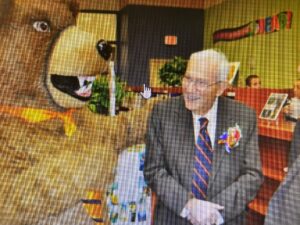 Thomas Walter Keller, the long-time Brownsville educator for whom Thomas W. Keller Elementary School is named and the founding principal of Cromack Elementary School, passed away early Thursday morning, August 6, 2020, at his ranch in Mineral Texas at the age of 92.
Keller retired from the Brownsville Independent School District in 1990 as deputy superintendent under Superintendent Raul Besteiro. While deputy superintendent he took great pride in BISD building the equivalent of an elementary school a year for several years without the benefit of bond issues. He also served as principal of Resaca Elementary, what was then Victoria Ward Elementary, and Stell Middle School.
Although recently in failing health, as late as last summer he was actively running the ranch, fencing the 1,000 acre ranch in spring 2019, his daughter Linda Cruickshanks said. He died of natural causes.
Cruickshanks said one of her earliest memories was traveling with her parents to what is now the El Cielo Biosphere Reserve in Tamaulipas, Mexico. While the head of the chemistry department at Texas Southmost College before joining BISD, Keller helped spearhead the park's development, and her parents had a cabin there during the park's early development.
Keller was born in Brownsville in 1927 and attended El Jardin School. He later played trumpet in a professional swing band and learned to fly his Taylorcraft airplane from Amelia Earhart's instructor, Cruickshanks said, adding that her father received his flying license before his drivers license.
He earned his bachelor's degree at the University of Texas at Austin in three years. He met Mary Frances Hudman , his future wife, while teaching her to fly.
"My mother came to take flying lessons from him and he ended up marrying her," Cruickshanks said. My mother was very instrumental in everything he did."
Growing up, Cruickshanks remembers her father as "A very hands-on principal" who wanted to make his schools special. "He really wanted the kids to enjoy school," she said.
She also said that even in his later years Keller would remember his time a principal of Victoria Ward School, and brag about the school's parents fundraised to help buy land adjacent to the school.
"The school board didn't have the money so the parents went out and had carnivals to raise the money to buy the land, she said.
Later, as an administrator, BISD vocational and technical programs were so successful that Keller"went around the state teaching other districts how to do it," she said.
Drue Brown, now vice president of the BISD Board of Trustees, worked under Keller during his time as deputy superintendent and remembered him fondly.
"Tom Keller was a tremendous, positive influence on the many people he worked with at Brownsville ISD. I was fortunate to work directly for Mr. Keller for over a decade. He certainly shaped me as both an educator and a person. His impact on so many of us continues to this day. His passing is a significant loss not only to those who knew him, but to the school district and Brownsville community that he helped to shape with his many years of honest and compassionate service," she said in statement.
Keller returned to Brownsville in 2010 when Keller Elementary was dedicated, and in February 2018, when BISD honored him as Principal for a Day of his namesake school.
"I can't remember seeing him happier than he was that day," his daughter, also an educator, said. "He was so proud of that school."
He is survived by his wife of 72 years: Mary Frances Hudman Keller of Mineral, TX; daughter: Mary Linda Keller (Alan) Cruickshanks of Mineral, TX; son: Thomas Walter (Merily) Keller of Austin, grandchildren and great grandchildren.
Because of the coronavirus pandemic, there is no public funeral, but a post-pandemic memorial service will be held, the family said.  Private Burial is at the Mineral Cemetery, Bee County.
Mr. Keller will lie in state  for the public on Saturday, August 8, 2020 from 5:00p.m. to 7:00p.m. at Eckols Funeral Home Chapel for those that would like to see Mr. Keller  and sign his register book.
In lieu of flowers, memorial contributions may be made to the Scholarship Fund, Thomas Walter Keller Elementary, 2540 W. Alton Gloor Blvd., Brownsville, Texas 78520.