Bill D. Thornton
Bill D. Thornton passed peacefully into Heaven to join his beloved wife Jonelle on April 9, 2020 with his family by his side at his home in Helena, TX.
Born in Sulphur Springs, TX on May 28, 1937, to Frances and Dozier Thornton, Bill was proud of his heritage. His grandparents, Mary and Sam Houston Carmack, and Alma and Emmett Thornton, were all born into pioneering families of Hopkins County. Bill lettered in football and track at Sulphur Springs High School-Class of 1955. He attended Southwestern University, where he was introduced to two of his great passions: Jonelle Wheatley, the prettiest girl he had ever seen, and boxing. In Fact, it was a family favorite to hear Bill recount how he literally fought a potential suitor to win over Jonelle. He was a member of the Kappa Sigma Fraternity and graduated with a degree in business in 1959. He then went on to earn a graduate degree from The School of Banking at LSU.
Bill and Jonelle were married in 1961 and had three sons, Brian, Steven and Matthew. After serving in the military as a platoon sergeant during the Cuban Missile Crisis, Bill began a long and distinguished career in banking. First as a bank examiner in Austin, then Vice President of the First State Bank in Killeen, and then as Senior Vice President of the Texas Bank in Temple. One day, when he walked into work with a broken nose and his eye swollen shut, his boss told him that it was time to decide between banking and boxing He retired from boxing with a record of 58 wins and 4 losses. Bill enjoyed his time as a boxing referee and was proud to have been chosen to referee the Golden Gloves National Championship in Fort Worth. While in Temple, Bill was elected City Commissioner, was named the Jaycees Man of the Year, was President of the Kiwanis Club, and held offices in many other civic and church organizations.
The Thorntons moved to Raymondville in 1974 when Bill was hired as President of the Raymondville Bank of Texas. Bill and Jonelle both fondly remembered their time in Raymondville, where Bill served as City Commissioner, Director of the Texas State Chamber of Commerce, Chairman of the Free Enterprise Committee, and was the first Willacy County resident to be elected President of the Rio Grande Valley Chamber of Commerce in its 35 year history in 1978.
He made another move in 1980 where he was hired to be President of the Mid Valley State Bank in Weslaco. Later that year, he accepted an invitation from Governor Bill Clements to serve as the first non-lawyer on the state Bar of Texas Board of Directors.
In 1985, Bill made yet another career move when he became President and CEO of the First National Bank of South Padre Island. He loved being able to get out on the bay for a quick fishing trip before work. While on the island, Bill was elected Alderman several times and sat on numerous boards. he enjoyed his time as both a  high school and college football referee, and upon retiring from refereeing, the Texas High School Coaches Association presented him with a Award of Merit. Upon retiring from the bank, Bill was awarded the 'Key to the city' of South Padre Island.
When he wasn't hard at work at the bank or volunteering in the community, Bill loved to travel the world with Jonelle. He was also sure to instill in his three boys his love for animals-from hissing cockroaches to English mastiffs- and all things outdoors.
Bill and Jonelle's final "career" move was to their ranch in Helena, TX, where they were soon recognized with the the Good Neighbor Award by the Karnes County Historical Society. They raised longhorn and watusi cattle and enjoyed watching wildlife explore the pastures around their home. Nothing made them happier than sharing La Bolsa Ranch-and all their critters-with family and friends.
Bill was preceded in death by his parents, his beloved wife, Jonelle, and sons Brian and Matt.
He is survived by his son Steve (Lorie) Thornton; grandchildren, Jennifer (David ) Pierson, Phillip and Dylan Loveland, and Wyatt Aikman-Thornton; great-grandchildren, Rebecca, Madeline, and Conley Pierson; sister, Judith (Joseph) Wood; nieces and nephews, Catherine (Michael) Clark, Thornton and Julie Wood; great-nieces, Elizabeth and Emily Clark; aunt, Jennet Doss; and his loyal English mastiff, Buddy.
A celebration of  life will be arranged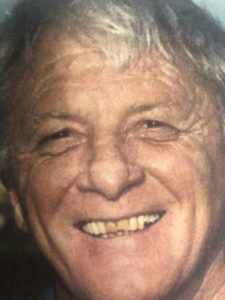 at a later date. Schlitz beer will be provided to all attending! In lieu of flowers, memorials may be made to the Karnes County Humane Organization. www.karnescountyhumane.org.