Diana Caballero Monsivais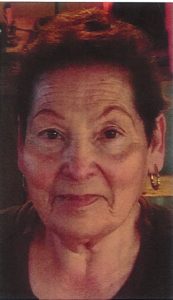 Diana C. Monsivais, Age 75 years, 5 months and 8 days of Kenedy, Texas passed away on April 5, 2020 in Pasadena, Texas. Diana was born to Pablo Caballero and Maria Perez Caballero on October 28, 1944 in Kenedy, TX. She married Juan M. Monsivais, Jr on February 25, 1961 in Kenedy, Texas. She is preceded in death by her husband, Juan M. Monsivais, Jr., her parents, Pablo and Maria Perez Caballero, brother, Gilberto Caballero, sister, Flora Medina, son, Juan Monsivais, III, daughter, Leticia Morin, 2 great-granddaughters, Majestic Baldaramos and Aleria Leticia Alvarez. Diana is survived by her children, sons, Israel (Charlee) Monsivais of Adkins, Texas, Stephen (Sheryll) Monsivais of Kenedy, Texas, Tony Monsivais of Floresville, Texas; daughter, Vivian (Ambrosio) Carranza of Pasadena, Texas. She is also survived by companion Ramon Guerra of Kenedy, Texas, her 10 grandchildren, 28 great-grandchildren, numerous nieces, nephews and cousins who will all cherish her.
Public viewing will be held on Friday, April 10, 2020 from 10AM to 7PM with a Holy Rosary to be recited at 7PM in the Eckols Funeral Home Chapel. Graveside Services with Interment will be Saturday, April 11, 2020 at 10AM in the Loma Alta Cemetery.
Serving as Pallbearers: Eric Monsivais, Michael Anthony Maldonado, Joshua Monsivais, PJ Baldaramos, Amanda Lyssy and Carlos Reyes.
Honorary Pallbearers: Ambrosio Carranza and Rafael Morin, Jr.