Armando Padron Trevino, Sr.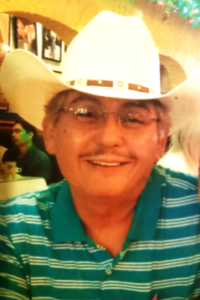 Armando Padron Trevino, Sr. of Kenedy died March 6, 2020 in Port Lavaca Tx. He was born September 14, 1948 in Kenedy, to the late Domingo Trevino Sr and Eloisa Padron Trevino. He was a retired Truck Driver and a member of Our Lady of Peace Catholic Church.
He married Virginia Trevino on Dec 31, 2011 in Port Lavaca Tx
He survived by his wife Virginia Trevino, daughters Brenda Luna (Ralph), Eloiza Heysquierdo (John), Adriana Soto. Sons Armando Trevino Jr (Katherine), Michael Trevino, Stanley Trevino (LaKeshea). Sisters Clara Soliz and Mary Helen Garcia. Brothers Domingo Trevino Jr, Abel Trevino, Gilbert Trevino, Robert Trevino, and Roy Trevino. Grandchildren and Great-grandchildren.
A Holy Rosary will be recited Monday, March 9, 2020 at 7pm at Eckols Chapel. Funeral Mass will be Tuesday, March 10, 2020 at 10am at Our Lady Queen of Peace Catholic Church with Norbert Hermann officiating.
Burial will follow at Sacred Heart Cemetery in Kenedy, TX.