Odilia (Lily) D. Garibay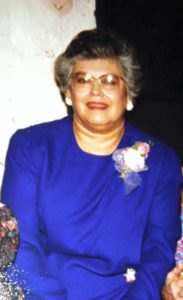 Odelia (Lilly) D. Garibay, 81, of Pawnee, died peacefully Saturday, August 3, 2019, surrounded by her family and friends. Lilly was born July 12, 1938, in Peggy, Texas to Soledad C. and Guadalupe Davila.
Lilly graduated from Pawnee High School in 1958 and started her career at Restful Acres Nursing Home, where she worked as a nurses' aid for many years. She found her way to the school district. She started working at Pawnee I.S.D., as a Principal's Secretary/Librarian. Within her 28 years of service, she eventually became the secretary for the entire school district. She retired on a Friday as a school secretary, and started on a Monday as a Nurses Aid for Bee Home Health. After 12 years of service, she decided to officially retire due to health reasons.
She was preceded in death by her mother, Soledad C. Davila; father, Guadalupe Davila; sisters: Estela Gutierrez and Delia Martinez; brothers-in-law: Rudy Gutierrez, Lee Martinez; and son-in-law: Juan Salinas.
Survivors include her daughters: Ciccy Gonzales of Pawnee, TX and Terry Salinas of Pawnee, TX; son, Louis (Aimee) Garibay of Beeville,TX; grandchildren: Mary Kay (Richard) Lopez of Kenedy,TX, Victoria (Gabriel) Gutierrez of Pawnee,TX , Andrea (Eric Lara) Salinas of Beeville,TX, John Louis (Katelyn) Salinas of Mineral, TX, Caitlin Garibay of Phoenix, AZ, Mattie (Isaul Ramos) Garibay of Corpus Christi, TX, Lindsay Garibay of Beeville,TX, Cody Garibay of Newport News, VA, Garrett Garibay of Beeville, TX ; 12 great grandchildren; and brother, Everardo Davila of Tomball, TX.
Visitation will be held on Wednesday, August 7, 2019 from 5:00p.m. to 9:00p.m. at Eckols Chapel. A Celebration of Life Service will be held at 7:00p.m. led by family. Funeral services Thursday, August 8, 2019 at 10:00a.m.at Eckols Chapel with interment to follow in Our Lady of Guadalupe Cemetery. Pallbearers: John Louis Salinas, Cody Garibay, Garrett Garibay, Michael Salinas, Owen Espinoza, and Joseph Salinas.
Reception to follow at the First Baptist Church of  Pawnee.TX.