John Thomas Porter November 3, 1955-July 17, 2019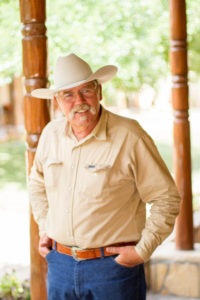 Tom was born to Newt and Janice Conder Porter in Beeville,TX. He is preceded in death by his parents and many beloved uncles and aunts. He is survived by his loving wife of 35 years, Terri Anderson Porter, of Kenedy,TX. He is also survived by his children: Samantha Porter of Austin,TX, John Wesley Porter of Karnes City,TX, Rebecca (Fernando) Villalobos of Alpine, TX and JW (Julia) Hunter of Georgetown, TX.
Thoughout his life, Tom proved himself to be full of many talents. He owned and operated his own trucking company out of Kenedy, TX for many years. He kept his children and many others entertained with stories from life on the road including the time he hauled cattle to California for Little House on the Prairie as well as when he had to teach people on the East Coast how to shuck tamales he had brought as a gift. He knew a lot and shared a lot.
Tom also enjoyed any time he was able to do cowboy work. His faithful horse Bud was the center of many great tales. They covered many acres and pushed through miles of South Texas brush together. Bud wasn't his only ranch help. Tom always knew Terry would be by his side to feed cows, bottle feed baby goats and to make the best cookies around after a long hot day. Sharing whatever he had with Buck, his much loved dog.
Tom never lost his love for the land and spent many hours working it, either by hand or dozer. He relished the opportunity to be in the true beauty of nature. He continues to make his family proud hoping that any donations made in his honor go to the Karnes County Humane Organization to help with their great works.
Visitation will be held Sunday, July 21, 2019 from 5:00p.m. to 8:00p.m. at Eckols Chapel. Funeral Services scheduled for Monday, July 22, 2019 at  10:00a.m. at Eckols Chapel with Rev. Ed Griffin officiating. Interment to follow in the Kenedy Cemetery. Serving as pallbearers: John Wesley Porter, Jesse Hunter, Fernando Villalobos, Paul Edwards, Eugene Pryor, Adam Avilles, and Shane Thomkins.