Elizabeth Ann Thoma Saldana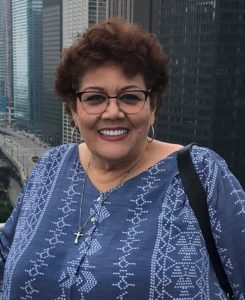 Born Dec. 24, 1959 to Consuelo and Norbert Thoma. One sister Carol Thoma Yeshe and one brother, Paul Thoma.  First laid eyes on her true love in 7th Grade.  Friends all through school……eventually  discovering love in college.  Joel Saldana and Liz married June 25, 1983.  Blessed with a precious daughter; Bettina Maria a year later.  Sadly, Bettina passed away at age 6.  Liz worked alongside her beloved husband at his medical practice, first in San Antonio and then in Kenedy, TX.  Liz found great joy in working in any capacity needed at St. Cornelius Church in Karnes City. She truly felt that fellow parishioners were her family.  Several illnesses caused Liz to cut back on her activities at St. Cornelius and she deeply missed her "family".  Ultimately, pancreatic cancer crept into Liz's life and the final chapter was written.
Preceded in death by daughter, Bettina, parents Consuelo and Norbert Thoma. Survived by husband, Joel Saldana, sister Carol Yeshe, brother Paul Thoma.  Loving nieces and nephews; outstanding great nieces and nephews who touched and enriched her life beyond measure.  Honored to have been chosen as a Godparent for 7 children. "You are forever in my prayers."
A Holy Rosary will be recited Friday, July 26, 2019 at 7:00 PM at the St. Cornelius Catholic Church in Karnes City, TX
Funeral Mass will be in the St. Cornelius Catholic Church at 10:00 AM Saturday July 27, 2019. Interment will follow in the Kenedy Cemetery.