Zelda Mae Atkinson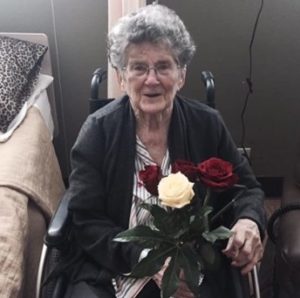 Zelda Mae (Hargreaves) Atkinson, born on January 9, 1924 in Kenedy, TX to the late Wilton and Eddlene Hargreaves passed away on Friday, February 23, 2018 at the age of 94. Mrs. Atkinson graduated from Kenedy High School in 1942 and married Reginald C. Atkinson on May 21, 1972. She was a life-long member of and past Secretary /Treasurer of the Choate Baptist Church.  Zelda is preceded in death by her husband, Reginald; her parents, Wilton and Eddelene Hargreaves; her brothers, W.L. and Thomas Hargreaves; sister, Francis Richey; and great grandson, Brent Atkinson. She is survived by her daughters, Deborah Decas, of Karnes City, TX and Kay Brawner (Joe Foster), of Seguin, TX; sons, Reginald "Carroll" (Dodie) Atkinson, Jr. of Three Rivers, TX and Randall (Wendy) Atkinson, of Kenedy, TX; 13 grandchildren that loving called her "MeMaw"; and 27 Great Grandchildren; her sisters: Jane Wernli, of Three Rivers, TX, JoAnn Lemmons, of Fort Stockton and Wanda (Richard) Wagner, of Gruver, TX; and nieces and nephews.  Visitation will be held Monday, February 26, 2018 from 5:30 P.M. to 8:00 P.M.,  in the  Eckols Funeral Home Chapel. Services will be Tuesday, February 27, 2018 at 10AM in the Eckols Funeral Home Chapel with Rev. Aaron Corparon officiating            . Interment will follow in the Choate Cemetery.  Memorials may be made to the Choate Cemetery Association or Kenedy Cemetery Association.
Pallbearers: Michael Atkinson, David Schueman, Larry Atkinson, Bryan Atkinson, Dace Atkinson, Reggie C. Salyer, Caleb Brawner, and Colby Brawner.
Honorary Pallbearers: Gibby Orsek, Joe Foster, James Borroum, and Tommy Coan.