Ignatz "Pete" Sczepanik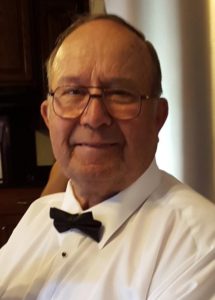 Ignatz "Pete" Sczepanik was welcomed by his Savior on the afternoon of Thursday, January 11, 2018, in Panna Maria, Texas. Pete was born on September 8, 1942 in Harmony, Texas to Ignatz, Sr. and Regina Sczepanik.
He graduated from Karnes City High School. Pete served the United States honorably as part of the U.S. Army and was stationed in Korea.
He was a devoted Catholic and faithful parishioner of the Nativity of the Blessed Virgin Mary Catholic Church in Cestohowa, Texas.
Pete was a loving husband, father, brother, Opa, and Popo to his newest grandson, Desmond. He enjoyed tending to his ranch, cattle, chickens, guineas, dogs, and cats (especially, his cat, Riley). He also loved to watch his "pet" deer. Some of his past times included watching Jeopardy!, Wheel of Fortune, the western channel, and sports.
He was preceded in death by his parents, Ignatz and Regina Sczepanik; brothers, Andrew Sczepanik and Fabian Sczepanik; sisters, Catherine Hill and Lillian Sczepanik; nephew, Brandon Sczepanik; and sister-in-law, Rose Mary Sczepanik.
He is survived by wife, Lailey Lambert Sczepanik, the love of his life, his ten children, whom he loved to brag on daily (much to their embarrassment). He was extremely proud of the fact that all of his children attended college; Romney Sample (Derek), Eric Sczepanik, Duncan Sczepanik (Clare), Kirk Sczepanik (Tina), Seth Sczepanik, Tobin Sczepanik, Dr. Darcy Seaton (Jeffery), Dr. Katya Sczepanik, Dr. Emily Brysch (Joseph), and Alexis Sczepanik (soon to be Dr.); grandchildren, Stephanie Mcelhatten, Joseph Barkley, Sarah Perez (Nathan), Robert Sczepanik, Shelby Sczepanik, Kaylie Garcia, and Desmond Brysch; great-grandchildren, Belladonna, Sierna, Emmalynn, and Benjamin; sister, Alice Mohr, and numerous nieces, nephews and cousins.
A rosary was held Monday, January 15, 2018 at 7:00PM and a funeral mass was held Tuesday, January 16, 2018 at 10:00AM at the Nativity of the Blessed Virgin Mary Catholic Church in Cestohowa, Texas. Msgr. Frank Kuraj and Fr. Andrzej Waszczenko officiated the services. Pallbearers included Eric Sczepanik, Duncan Sczepanik, Kirk Sczepanik, Seth Sczepanik, Tobin Sczepanik and Robert Sczepanik