Elodia Botello Guzman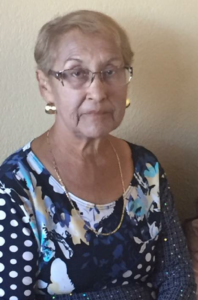 Elodia Botello Guzman, 74, of Kenedy died Thursday, March 22, 2018. She was born on April 24, 1943 in Kenedy, Texas to Benancio Botello and Norberta Rodriguez. Elodia was a member of Our Lady Queen of Peace Catholic Church.
She was preceded in death by her parents, her daughter JoAnne Rios, sons, Jaime Guzman, Heriberto "Bert" Guzman and David Guzman; sister, Lydia Martinez; brothers, Andres Botello, Tony Botello, and great grandson, James Daniel Rios.
Survivors include her husband of 57 years, Heriberto "Beto" Guzman, children, Patricia Guzman (Juan) of Runge, TX, Ruben Guzman of Kenedy, TX, Larry Guzman (Sylvia) of Kenedy,TX Priscilla Alvarado(Jaime) of Kenedy, TX, Rebeca Gutierrez (Felix) of Yorktown, TX and Robert Guzman (Pauline) of Kenedy, TX; sisters, Carrie Copeland of San Antonio,TX ,Janie Olivares of Kenedy,TX and Sylvia Trevino of Houston,TX; twenty six grandchildren and twenty eight great grandchildren.
Visitation Hours: Tuesday, March 27, 2018 from 4:00p.m. to 9:00p.m. with a Rosary to be recited at 7:00p.m. at Eckols Chapel. Departure from funeral home at 9:30a.m. Wednesday, March 28, 2018 for a 10:00a.m. Mass of Christian Burial at Our Lady Queen of Peace Catholic Church with Rev. Norbert Hermann officiating. Interment to follow in Loma Alta Cemetery.
Pallbearers: Harold Rios, Nick Guzman, Jackie Guzman, Larry Guzman, Jr., Adrian Gamboa, Jason Guzman, Severo Salas, Justin Guzman and Robert Guzman Jr.