Nancy Atta Avant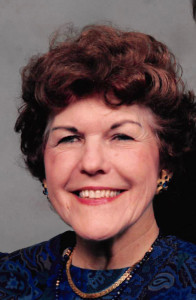 Nancy Etta Kauffmann Avant, a child of South Texas pioneers, community and business leaders died on November 8, 2017, in Corpus Christi, Texas.  She was born on May 24, 1924, in the Kauffmann family home in Kenedy, Texas. Nancy Etta,daughterof Adolph F. Kauffmann, Jr. and Nannette Rudisill Kauffmann, lived most of her life in the same home in Kenedy, Texas. As a talented tap dancer, young Nancy performed throughout Texas. After completing high school in 1940 at the age of 16 in Kenedy, she attended The University of Texas at Austin receiving a BS in Sociology in 1944.
Some would say she had bigger dreams and aspirations.  After graduating from UT she followed her passions for Interior Design and singing in New York City, New York where she studied at Parsons School of Design and the voice studio of Marion Mulholland.  Later Nancy returned to Texas, joining the Interior Design Department at Joske's Department Store in San Antonio.
She soon meets a man who would steal her heart, Jim Avant, a young banker at Frost Bank. They were married on October 14, 1951. Their plans were to live in San Antonio but fate changed their lives very quickly.  Nancy's father died suddenly later in 1951 and the newlyweds were called to come back to Kenedy to help run Kauffman Motor Company in Kenedy, Texas. For the next 45 years, they worked together to run the family Chevrolet dealership until Jim's death in 1996.
Nancy never knew a stranger, always willing to entertain by dancing, singing and planning parties and of course, cooking. She served on the Otto Kaiser Hospital Board for 18 years and ran a successful Bed & Breakfast called the Hide-A-Way. She was a member of the Kenedy Rotary Club and was proud to be a Paul Harris Fellow. She was named Citizen of the Year of Karnes County in 2005.
For many years, Nancy was the featured soloist of First Methodist Church in Kenedy, Texas and shared her talent with many during funerals and weddings.
She is preceded in death by her father A. F Kauffmann Jr., mother Nannette Rudisill Kauffmann, husband James H. Avant, and brother A. F. Kauffmann III.
She is survived by her son, James K. Avant (Betty), Mesquite, Texas and her daughter, Nannette A. Borden (Allen), Corpus Christi, Texas, as well as3grandchildren, Alicia Avant, Jessie Avant,  Mesquite, Texas, Ben Borden (Madeleine Pare), Los Angeles, California  andone great-grandchild, Jaylee Bannister(Avant),Mesquite.
A memorial service to celebrate the life of Nancy Avant will be held at 3 PM on Saturday, November 11th at the Eckols Funeral Home located at 420 W. Live Oak, Kenedy, Texas.
In lieu of flowers donations can be made to the charity of your choice or the Rotary International Foundation at https://www.rotary.org/en/donate.