Command Sergeant Major Jackie (Jack) Lynn Bevel, US Army (Ret)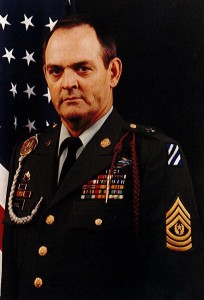 Command Sergeant Major Jackie (Jack) Lynn Bevel, US Army (Ret), was born on March 29, 1936 in O'Brien, Texas to Norman and Juanita Turner Bevel. He passed away suddenly on June 3, 2017 at the age of 81.   Jack attended Rio Hondo High School, but left at the age of 17 to join the Texas National Guard with his brother, James. His military career continued for over 34 years during which he managed to acquire his GED. On May 16, 1959, he married the love of his life, Royleene Jacobson, at the First Baptist Church in Kenedy, Texas. They were married for 57 years at the time of her passing. Together, they made a life in the military with their 4 children in tow. After joining the US Army on March 29th, 1953, Jack spent the next four years as a member of the Texas National Guard's B Troop 112th Armored Cavalry. Jack began active duty in September 1957 in Colorado and New Jersey before spending 1958 in the Republic of Korea. Jack returned to the United States in 1959 after receiving orders to Fort Hood, Texas.  In 1961 he was stationed in Germany then back to Fort Hood in 1964 and back again to Germany from 1965 to 1966. In 1967 Jack deployed to Vietnam as a member of Military Assistance Team 64. In 1969 Jack was assigned toAberdeen Proving Grounds,  Maryland as an Instructor. After a year, Jack returned to Vietnam in 1970 as a Platoon Sergeant in A Company, 2 Battalion, 1st Infantry Regiment (196th Light Infantry Brigade). Following his last deployment to Vietnam, Jack returned to Fort Hood until 1974 when he moved again to Germany and then back to Fort Hood in 1977. In 1979, Jack was selected to become a Sergeant Major and attended the US Army Sergeants Major Academy in Fort Bliss, Texas. Following graduation of the Sergeants Major Academy, Jack served as the Lead ROTC Instructor at Midwestern State University in Wichita Falls, Texas until 1982. In 1982, Jack was assigned to Germany (again) where he served as a Battalion Command Sergeant Major and Brigade Command Sergeant Major until 1987. Jack retired from active duty on April 1, 1987.
Between 1967 and 1970 while serving in Vietnam, Jack earned the Combat Infantryman Badge, three Silver Star Medals, a Bronze Star Medal, an Army Commendation Medal for Valor, four Purple Hearts for wounds received in combat, four Republic of Vietnam Gallantry Crosses, two Republic of Vietnam Civil Action Medals, the Vietnam Service Medal, and the Republic of Vietnam Campaign Medal. Over Jack's 34 year military career he also earned the Legion of Merit, four Meritorious Service Medals, three Army Commendation Medals, and an Army Achievement Medal, ten Good Conduct Medals, the National Defense Service Medal, the Non-Commissioned Officer Professional Development Ribbon (with award numeral 4) and the Overseas Service Ribbon.   After retirement, he and Royleene moved to Kenedy, Texas; where they lived for 30 years. He wasn't one to sit still and had his hands in many different adventures. Like, running a members only swimming pool; cattle ranching and all that that demands; picking up and delivering cars for Alexander Ford with his friend, Roger Overby; Dispatching for the Sheriff's Department; guarding prisoners at the GEO; reading water meters with his daughter, Laurie; and helping out where needed at Eckols Funeral home (with Royleene as his sidekick on occasions). He enjoyed "coffee/taco time" every morning at the Taqueria; where the problems of the county and world were discussed. He never met a stranger and was the "go to person" for help and even advise (whether you wanted it or not). He was a member of First Baptist Church in Kenedy, where he served on the Transportation Board and was an usher.  He was a member of the VFW.  He was a past president of the Kenedy Cemetery Association. He also found time to serve on the Board of Directors for SARA (San Antonio River Authority).   He loved his family and was very proud of each of his children and their accomplishments. He could talk for hours about his grandchildren and how proud he was of each of them. He was their biggest cheerleader. He attended many volleyball, basketball, and baseballs games, switching caps for each event. Then along came his great grandchildren and the joy they brought him. He was always eager to hear what they were up too and amazed at how smart all of them are at a young age.   He is preceded in death by his parents, Norman and Juanita Bevel; brother, James Bevel;  grandson, Jonathan Hackney; and most recently his beloved wife, Royleene Jacobson Bevel (March 8, 2017).  He is survived by his sisters, Patricia Kiddney (El Paso), Joy (Jackie) Harvey (Odessa), Darlene Cummings (Sweetwater); Sister in laws: Lela Bevel (Stamford), and Shirley (Robert) Hutchins (Portland); His children: Jackie (Shawnna) Bevel Jr (Louisiana), Shirlene (Kent) Hackney, Laurie McCarley (both of Kenedy), and Jeffrey (Elizabeth) Bevel (Florida); his grandchildren, Jessica Hackney (Miguel Guerrero); Jennifer McCarley, Sarah Bevel, Miranda Bevel, Kaitlyn Bevel; Great grandchildren: Jordan and Taylor Guerrero; Liam Nash; and numerous nieces and nephews.  Family Visitation will be held Wednesday, June 7, 2017 from 6PM to 8PM in the Eckols Funeral Home Chapel.  Services will be Thursday, June 8, 2017 at 10AM in the Eckols Funeral Home Chapel with the Rev. Matt Singleton officiating.  Interment with full Military Honors will follow in the Kenedy Cemetery.