Royleene B. Bevel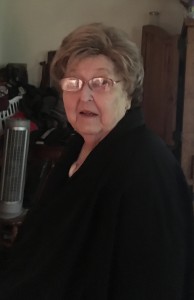 Royleene B. Bevel, Age 77 of Kenedy, TX passed away on Wednesday, March 8, 2017 in Kenedy, TX.   Royleene was born on February 2, 1940 in Kenedy to the late Roy and Agda Froling Jacobson.  At an early age, she hung out with her dad at Kaufmann Motor CO. or the local movie until her mom got off work at the hospital. In her school years, she was in the band, started with the clarinet and moved up to the bass clarinet and also played basketball.  She played the piano at the First Baptist Church where she also served as a teacher, choir member and served on several of the church committees. She married Jack Bevel on May 16, 1959 in Kenedy, TX and stayed and worked in Kenedy at the hospital until December of that year. Among her years travelling all over with her husband, she volunteered for the Army Community Service multiple times, up until 1979 where she worked for an insurance company up until their move back to Germany in 1982 where she worked as a clerk for the Red Cross Office in Aschafenberfg and served as Senior Enlisted advisor to women. Royleene retired from the State of Texas WIC Program after 25 years of service last summer due to health concerns.
She is preceded in death by her parents Roy and Agda Froling Jacobson, and grandson Jonathan Hackney.
She is survived by her husband, Jack Bevel; daughters, Shirlene Hackney and husband Kent, Laurie McCarley; sons, Jackie Bevel, Jr and wife Shawnna, Jeffrey Bevel and wife Elizabeth; sister, Shirley Hutchins and husband Bob, grandchildren, Miranda Bevel, Sarah Bevel, Jessica Hackney (Miguel Guerrero), Jennifer McCarley, Kaitlyn Bevel; great-grandchildren Jordan and Taylor Guerrero and Liam Nash.
Visitation will be held Friday, March 10, 2017 from 5PM to 7PM in the Eckols Chapel. Services will be Saturday, March 11, 2017 at 10AM in the Eckols Chapel with Bob Hutchins officiating.  Interment will be in the Kenedy Cemetery.
Serving as Pallbearers will be Miguel Guerrero, Lorenzo Saenz, George Majefski, Joseph Matte, Jordan Guerrero, Brad Bevel, and Berl Bevel.
Honorary Pallbearers will be Class of 1958, Staff of WIC in Kenedy, and Liam Nash.
Memorials may be made to Accolade Hospice.