Hermina Dorothy Hermis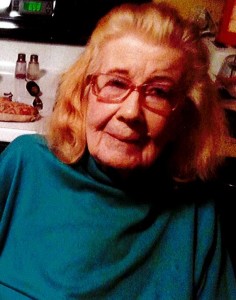 Hermina Dorothy Hermis went to be with our Lord on January 13, 2017, at the age of 96 at Northeast Baptist Hospital in San Antonio, Texas after a four year residency at John Paul II nursing home in Kenedy.
She was born on February 10, 1920, to Julius and Angelina (nee Olsovsky) Hermis in Hobson, Karnes County, Texas. With the early death of her father, she quit high school and went to work in San Antonio. Later she came back to Kenedy and worked at the bus station, May's Cafe and sold Avon products in her spare time. The majority of her career was working at the Ken Kream for over 40 years from the time it opened its doors. During this time, she absolutely enjoyed engaging with the many students and customers until her health declined. She also enjoyed bowling at the K-Bowl, gardening and her pets. She moved to John Paul II Nursing Home in January 2013.
She is survived by her sister and brother-in-law, Emma and Gilmer Donabauer Sr. of Kenedy, her half-sister Marcine Dupnik of Hobson and numerous nieces and nephews. She was preceded in death by her parents, stepfather Victor Brosh, sister and brother-in-law, Christine Hermis Syring and Marcus "Mike" Syring of Kenedy, and Louis Dupnik, husband of Marcine Dupnik.
Funeral arrangements provided by Eckols Funeral Home in Kenedy. A Rosary was recited at Eckols Chapel on Sunday evening at 7PM followed by funeral service on Monday at 10:00AM at Our Lady Queen of Peace Catholic Church, Father Norbert Herman officiating. Interment at St. Boniface Catholic Cemetery on FM-81 in Hobson, Texas.
Pallbearers were Jody Syring, Harold Syring, Gilmer Donabauer, Jr., Charles Donabauer, David Dupnik and Anthony Dupnik and Jim Syring, alternate.
Family members would like to thank Drs. John Seaworth, Rayford Mitchell, and Sahar Avestimehr, the Sisters and staff at John Paul II Nursing Home, the wonderful staff at Northeast Baptist Hospital and Embrace Hospice for her care.
She will be in the hearts of many who encountered her throughout her long life's journey.
In lieu of flowers, memorials may be made to the John Paul II Nursing Home or have a Mass Offering in her name at Our Lady Queen of Peace Catholic Church in Kenedy, TX or any catholic church of your choice.