Charlene G. Stockton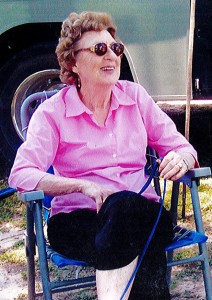 Charlene G. Stockton age 88 formerly of Kenedy died Oct. 27, 2016 in Universal City. She was born in Kenedy to Charles & Josie Shaw Gruenwald.  She married Walter Stockton Aug. 3, 1963 in Karnes City and he preceded her in death Aug. 10, 2006.
She is survived by her daughters, Talitha (Jim) Allee of Sandia, TX, Lisa (Larry) Novak of Kenedy, sons Tracy (Elizabeth) Nash of Universal, City and Wayne (Darlene) Stockton of Kenedy.
A visitation will be held Monday at the Eckols Chapel from 10:00 AM to 2:00 PM. Funeral services will  be at 2:00 PM in the Eckols Chapel with Bro. Jeff  Spendlove officiating.  Interment will be in the Kenedy Cemetery.  Pallbearers will be Jim Allee, Wayne Stockton, Larry Novak, James Linder, Wesley Nash, Josh Stockton.  Honorary Pallbearers will be Joseph Maxted, and Trace Nash.