Etta Lucille Gentry Champagne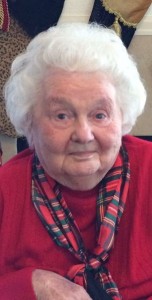 Etta Lucille Gentry Champagne, Age 86 of Pettus, TX passed away Saturday, November 12, 2016 in Seguin, TX. Etta was born on March 1, 1930 in Cordell, OK to the late Walter Dabney and Selma Zenobia Guenther Gentry. On July 8, 1950, she married Gilford P. Champagne, of Houma, LA in Victoria, TX.  She graduated from Patti Welder High School and Victoria College in Victoria, TX and continued her education graduating from Texas A & I University in Kingsville in August of 1964.  She began teaching in Pettus as their Home Economics teacher that Fall…until she retired in 1997.  She was a resident of Pettus from 1964-2011. During her years as a Home EC teacher in Pettus, she served as the advisor for the Pettus Future Homemakers of America (FHA) where she had 2 State Officers, 9 Area X Officers, 4 Region V officers, 2 STAR Event participants that advanced to the State level, one of which won a Gold Medal at the National FHA Leadership Conference.  Etta had a servant's heart as she dedicated her life to serving others, especially children, and loved to see them succeed.  She was an active member of the Bee County Junior Livestock and Homemakers Show Board; Charter member of Vocational Home Economics Teachers Association of Texas; Pettus Youth Boosters; Little League volunteer in Victoria, Beeville, and Pettus, serving as Secretary-Treasurer in Beeville; Boy Scout Den Mother in Victoria, Beeville and Pettus; PTA Secretary at Smith Elementary in Victoria and PTA President at Maddrea-Flournoy Elementary in Beeville; Brownie Scout Leader in Pettus.  She was an active Rotary "Ann" assisting in fundraisers and entertaining numerous District Governors' wives during their visits to Pettus Rotary Club.
She is preceded in death by her husband, Gilford P. Champagne; parents, Walter and Selma Gentry; sister, Frieda O'Hara; brothers, LeeRoy Gentry, Marcus Gentry, Kenneth Gentry, and Edward Gentry.
She is survived by her daughter, Kristy Michelle Keach and husband Sam of George West; sons, Keith Paul Champagne and wife Sharon of Bedford, Kyle Lynn Champagne and wife Donna of Pettus; 8 grandchildren:  Stephen (Monica) Champagne, Joanne (Jay) Sparks, and Preston Durham all of the DFW metro area; Kay Lynn (Doug) Hawkins of Seguin, Kerri (JD) Went of San Antonio, Kevin (Summer) Champagne of Ray Point, Katelyn and Kailey Keach, both students at Texas Tech University in Lubbock; 11 great-grandchildren; sisters-in-law Peggy Gentry and Rosetta Gentry of Victoria, and Barbara Gentry of Meyersville; and her brother-in-law Alvin Bonvillain of Houma, LA…along with numerous nieces and nephews in Victoria, Cuero, Meyersville, Abilene, San Antonio, Rockport, Houston and the Houma, LA area.
Family Visitation will be held Wednesday, November 16, 2016 in the Eckols Funeral Home Chapel from 6PM to 8PM. Services will be held Thursday, November 17, 2016 at 10AM in the Eckols Funeral Home Chapel with the Rev. Don Hessong officiating.  Interment will follow in the Beeville Memorial Park Cemetery in Beeville, TX.
In Lieu of flowers memorials may be made to the donor's choice.