Lizzie Mae "Liz" Braniff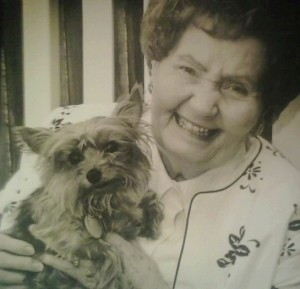 Lizzie Mae "Liz" Braniff took her first breath in Heaven surrounded by her family and her beloved Yorkie, Baby, her faithful companion, in her home on August 4, 2016 in San Antonio, Texas at the age of 83. Liz was born on May 31, 1933 at Pat Leon Creek, Hawthorn, Texas in San Augustine County to Nay and Ethel Smith.  She grew up in East Texas amongst the beautiful pines and always loved going back there to visit her numerous brothers and sisters.  She married her best friend, Jack Braniff in 1953.  Liz and Jack lived in Cotulla and Jourdanton before settling in Kenedy, TX in 1961.
Liz touched many lives in her 83 years. To her family, she will always be remembered for her kind, gentle and patient ways. She loved her family unconditionally and treasured every moment with them. To many others, Liz was best known for her famous Tino's Pizza.  She owned and operated Tino's in Kenedy, Texas for 14 successful years.  She cherished and loved every customer and employee, and was passionate about making each and everyone feel loved and welcomed and "At Home" surrounded by good food, laughter, and above all, love.
In 1988, Liz moved to Pflugerville, Texas where she worked for Randell's, still creating wonderful dishes with her loving hands through catering. In 2006 she retired in San Antonio, Texas where she continued making every visitor feel loved, welcomed, and "At Home". We are comforted to know that Liz is now at her eternal mansion with her beloved Jack.  She is also preceded in death by her parents, Nay and Ethel Smith, siblings, Vernon Taylor, Herman Smith, Walter Smith and Nay Smith, all of Hawthorn, Texas in San Augustine County.  Mrs. Braniff is survived by her children Tim and Mary Braniff of Falls City, TX; Rebecca Butler and husband Roy of Rockport, TX; Deborah Walton and husband Gary of Schertz, TX; Chris Braniff of Kerville, TX; and Cindy Stooksberry and husband Tom of San Antonio, TX.  Liz also leaves behind granddaughters Kimberly Kowalik with husband Russell, Jaclyn Braniff, Cierra Braniff, and Ashly Hall with husband Keith; grandsons Michael Braniff, Austin Butler, Jake Butler with wife Melissa, and Travis Walton; and great-grandchildren Nate, Shay and Daylen Kowalik, Savannah Hall, Micah Braniff, and James Butler.
Liz will be greatly missed, but there is great comfort in knowing she is now at home with her Lord and Savior, Jesus Christ.
Family Visitation will be held Sunday, August 7, 2016 from 4PM to 7PM in the Eckols Funeral Home Chapel. Services will be held Monday, August 8, 2016 at 10AM in the Eckols Funeral Home Chapel with the Rev. John Dean officiating.  Interment will follow in the Kenedy Cemetery, Kenedy, TX.