Justin Truett Hunt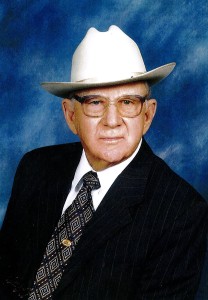 Justin Truett Hunt passed away on July 29, 2016 at the age of 96. He was born August 31, 1919 in Choate, Texas to Robert Marshall Hunt and Martha Ann Culpepper Hunt.  He attended Choate community school, and then Kenedy High School in Kenedy Texas, where he graduated in 1936.  He then attended Baylor University in Waco, Texas where he met his future bride, Lillian Ann Gibson.  Truett  joined the U.S. Naval Reserve during his senior year, following the attack on Pearl Harbor.  He completed college in 1942, with a BBA, majoring in accounting. He attended Naval Officer Candidate School in Chicago, Illinois, graduating in November.  Commissioned as an Ensign, he reported for duty to the USS Mount Baker in March 1943 in Norfolk ,Virginia. Truett married Lillian Ann on December 18, 1945, during a short military leave. She held first place in his heart for the rest of his life.  At the conclusion of WW2, Lt. Hunt separated from active duty with the Navy, and he and Ann began their life together in Kenedy.  He owned Truett Hunt and Company, a cotton merchandising business; managed the Kenedy Compress and Warehouses; and, started Karnes Insurance Agency.  He was also a cattle rancher. He was active in service to his church and community. His served First Baptist Church for many years as a deacon, Sunday School teacher and treasurer, among other responsibilities. He was a long-time Rotarian, president of the Kenedy Chamber of Commerce, and a member of the Kenedy City Council, as well as the Kenedy Airport Board.  He was a director on the boards of First Nichols National Bank and the San Antonio River Authority, where he served as the elected representative for Karnes County for thirty years.  He was a founding member and officer on the board of the Karnes Limited Citizens, which served residents with special needs. Throughout his life, he supported many individuals, organizations and causes.  Truett was preceded in death by his parents, wife, daughter, Marcia Ann Hunt, and brother David B. Hunt. He is survived by his sister, Mary Beth Mills; son, Truett Lee Hunt and wife, Maggie;  daughter, Margaret Hunt Rice and husband, Gene; grandchildren, Roy Hunt, Samantha Hunt Jennings, Amanda Hunt, Kristen Rice Jackson, Heatherjo Breckenridge, Justin Rice and Bob Meeks; and, great-grandchildren, Matthew McCafferty, Eric Deyo, Logan Deyo, Ethan Hunt, Isabella Breckenridge, Gabrielle Meeks, Eric J. Jackson, Jr. and Justin Elliott Jackson. A visitation will be held at Eckol's Funeral Home in Kenedy, TX, 6:00 – 8:00 p.m. on Monday, August 1. The funeral service will take place at 10:00 a.m.  on Tuesday, August 2, at First Baptist Church of Kenedy, followed by a graveside service at Choate Cemetary.
Pallbearers are Roy Hunt, Justin Rice, Bob Meeks, Craig Jennings, Eric J. Jackson, Sr., and Ron Hyde.
Memorial donations may be made to South Texas Children's Home Ministries, P. O. Box 759, Beeville, TX 78104-0759 (www.stchm.org) ; or, First Baptist Church Library Fund, 209 E. School St., Kenedy, TX, 78199.