Ryan Quinton Braley
Ryan Quinton Braley, Age 29, of San Antonio, TX was born on Sept. 5, 1986 in San Antonio, TX and lived all his life in San Antonio until he was taken home to the Lord from a sudden illness on Aug. 19, 2016 just 17 short days before his 30th birthday. Ryan was a fun loving, big hearted gentle giant of a man.  He loved people and tried to help others in need wherever he could.  Ryan decided several years ago to be an organ donor, and he will now live on in others.  Ryan hated to see anyone by themselves or looking lonely.  Ryan could go into a room of strangers and by the time he left he would have a new group of friends.  Ryan was a 2005 graduate of Tom C. Clark High School and #99 was a formidable defensive lineman on the Fighting Cougar football team.  He then went on to receive his Associates Degree from Northwest Vista College.  As with many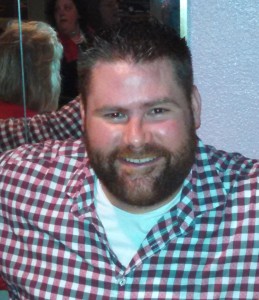 young people, he had several jobs after college.  Ryan found his true passion to be in the insurance industry. Ryan liked to do a variety of things.  Some of his favorites included traveling, fishing, jet skiing at the lake, family gatherings and acquiring a collection of cologne.  He had a gift for setting up sound systems and computers and made it look it easy.   Ryan's true passion, pride and joy are his two beautiful daughters, Julie Rae Rakowitz Braley and Hayden Jaye Poss Braley.  He loved to play and hold his girls every chance he had.   While Hayden is too young to remember her Daddy, Julie adored him and continues to look for "DADA".
Ryan was preceded to heaven by paternal grandparents, Bruce Burton and Carole Jo Shafter Braley; maternal grandparents, Chancy "Shorty" E. and Betty Jean Pearce Saxton; and paternal aunt, Pamela Jo Braley Autry.
Ryan is survived by his loving parents Cal and Neccia Saxton Braley of San Antonio; daughters Julie Rae Rakowitz Braley and Hayden Jaye Poss Braley and many aunts, uncles, cousins and friends who loved Ryan and will dearly miss him. Family Visitation will be held Tuesday, August 23, 2016 from 5PM to 8PM in the Eckols Funeral Home Chapel, Kenedy, TX.  Services will be held Wednesday, August 24, 2016 at 2PM at the First Baptist Church in Karnes City, TX with the Rev. Jay Fleming and Rev. Bill Swanson officiating.  Interment will follow in the Choate Cemetery, Choate, TX.
Serving as Pallbearers will Brandon Saxton, Brent Saxton, Scott Bomar, Chris Bomar, Tyler Bryan, Chance Addington, Derek Saxton and Austin Braudaway.
Honorary Pallbearers are Michael Braudaway, Tommy Bomar, Eddie Saxton, Bill Jones and Quinton Biles.
Rest Well Son, We Love You Mom, Dad, Julie and Hayden.
Memorials may be made to the Sunshine Cottage School for the Deaf, San Antonio, TX.