Mary Charlotte Stern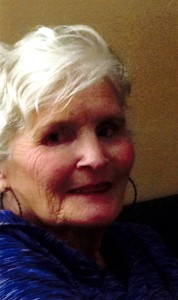 Mary Charlotte Rice Stern 82 passed peacefully at her home in Pettus on May 6, 2016 surrounded by her loving family.
Charlotte as she was known was born on Jan. 20, 1934 in Pinkard, AL to Jesse Ralph & Luta Jewel Gibson Rice. Mar. 29, 1958 she married Leslie Albert Stern.  She was a homemaker and veteran of the US Navy.  She enjoyed her family, embroidery, quilting and variety puzzles.
She was preceded in death by her parents Jesse Ralph & Luta Jewel Gibson Rice; Three brothers, Lee I. Rice, James R. Rice & Jessie F. Rice; Three beloved sisters-in-law, Melrose, Katherine, and Sara Rice.; and a nephew William Kreig Rogers.
She is survived by her husband of 58 years Les Stern; Her children; Jimmy (Vicki) Rice of Beeville, Becky (Carl) Lewis, Shelly (Mike) Martin both of Pettus, and Larry (Jon) Stern of San Antonio; One brother, Billy Joe Rice of Dothan, AL; Two sisters, Patsy Keane of LaPorte and Brenda Grizzle of San Leon, TX.; One sister-in-law, Judy Rice of Dothan, AL.  Her grandchildren Tiffany (Nathan) Mosley, Murfreesboro, TN, Jesse Lewis of Pettus, Jarrod Lewis of Charleston, SC Rodney (Diana) Luckenbach of Lovington, NM; Two great grandsons Brylee and Chance Mosley of Murfreesboro, TN.  She was always thought of as surrogate grandmother and loving aunt to numerous nieces and nephews.  She will truly be missed. There will be a memorial service Wednesday May 11, 2016 at 7:00 PM at the Eckols Chapel.
In lieu of flowers memorial may be made to Shriners Children Hospital.