Shirley Loretta Rogers Berthold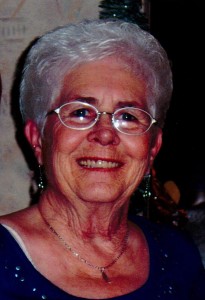 Shirley Loretta Rogers Berthold, Age 81, of Pettus, TX passed away Saturday, April 16, 2016 in Pettus, TX. Shirley was born on August 17, 1934 in White Castle, LA to the late Theodore Rogers and Pauline I. Weeks Meyers.   On June 7, 1955 she married Jesse Louis Berthold.   She was a loving Wife, Mother, Grandmother, Great- grandmother, a dedicated Nurse and a devout member of New Life Baptist Church in Beeville, TX.
She is preceded in death by her parents, Theodore Rogers and Pauline I. Weeks Meyers; sister, Opal Hurling; brothers, Teddy Rogers, Paul Rogers, and L.G. Rogers.
She is survived by her loving husband, Jesse L. Berthold of Pettus; daughters, Rebecca Marie Cameron of Pettus, Patricia Gail Killam and husband Glenn of Pettus; son, Jesse F. Berthold and wife Deanie of Beeville; brothers, Danny Meyer and wife Eileen of Harper, Tommy Meyer and wife Caroline of San Antonio; grandchildren, David Wayne (Christina) O'Brien, Melissa Marie (Mark) Olguin, Ashlie Nicole (Randy) Whittemore, Lindsie Paige (Brennan) Sharon, Brandy Dawn (Shane) Whittley, Shalaine Denise Lankston, Michael Shane Killam; and great-grandchildren, Cadence O'Brien, Ayumi O'Brien, Jayce Constante, Gavin Herrera, Jayden Herrera, Farrah Whittemore, Aden Whittemore, Xavier Whittemore, Ender Whittemore, Madison Perez, Brayden Sharon, Emersyn Sharon, Brynlee Whittley, Conner Whittley and Kaybree Whittley.
Family Visitation will be held Tuesday, April 19, 2016 from 6PM to 8PM in the Eckols Funeral Home Chapel. Services will be held Wednesday, April 20, 2016 at 11AM at New Life Baptist Church in Beeville, TX with Pastor Jesse Berthold, Pastor Glenn Killam and Pastor John Sisk officiating.  Interment will follow in the Beeville Memorial Park, Beeville, TX.
Serving as Pallbearers will be Bobo Bowman, Larry Wren, Randy Whittemore, Brennan Sharon, Shane Whitley and Michael Killam.
Honorary Pallbearers are Tony Ojeda II, Ed Cook, Manual Gonzales, Justin Meyer, David O'Brien and Jayce Constante.
Memorials may be made to the Tony Ojeda, III Youth Foundation C/O New Life Baptist Church, Beeville, TX.