Shirley Ann Malaer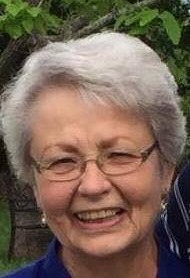 Shirley Ann Malaer, age 73 of Tuleta, Texas passed away April 1, 2016 in Corpus Christi, TX.  She was born on December 10, 1943 in Kenedy, Texas to the late Albert Gerald and Mattie Elizabeth Frederick Baker.  She married Louis Malaer on December 22, 1985 in Tuleta, TX.  Shirley retired after 29 years of service at the South Texas Children's Home as a house mother and Director of Cottage Life; was a member of First Baptist Church of Tuleta; a volunteer for Helping Hands and a dedicated and loyal wife, mother, and friend. She believed in God, and shared her faith openly with everyone with whom she came in contact. Shirley loved her job working with the kids at STCH until she retired. After retiring, she was actively involved in her church and community. Shirley loved her family, especially her grandchildren. She was committed to the love of her life, Louis Malaer, in marriage, friendship, and an absolute love of life.
She is preceded in death by her parents, Albert Gerald and Mattie Elizabeth Baker; son, Marvin Ronald Sullivan; sister, Mary Homeyer; brothers, Albert Baker and Cecil Baker.
She is survived by her loving husband Louis Malaer; daughters, Letricia Gayle Hinze and husband Bill of Floresville, TX, Dana Beth Correll and husband Matthew of Elizabeth, CO, Terri Lynn Miller and husband Larry of McAllen, TX, Tami Kaye Warren and husband Wade of George West, TX; sons, Robert Allen Malaer and wife Jerusha of Bend, OR, Clifton Louis Malaer and wife Laenette of Tuleta, TX, 16 grandchildren, 3 great-grandchildren and numerous nieces, nephews, cousins and in-laws.
Visitation will be Monday, April 4, 2016 from 6PM to 8PM in the Eckols Funeral Home Chapel. Services will be held Tuesday, April 5, 2016 at 10AM in the Eckols Funeral Home Chapel with Rev. Homer Hanna and Rev. Jack Allen officiating.  Interment will follow at the Pilgrim Cemetery near Nixon, TX
Pallbearers will be Steven Vasquez, Eric Vasquez, Peyton Correll, Grant Correll, Dylan Malaer, Clifton Louis Malaer, Greg Husky, and Roy Cox.
Honorary Pallbearers will be Ty Homeyer, Tilman Homeyer, Jackie Shulze, and James (Corky) Warren.
Memorial donations may be made to the South Texas Children's Home, First Baptist Church Tuleta, TX or the Kieschnick House Corpus Christi, TX.