Kaye Smith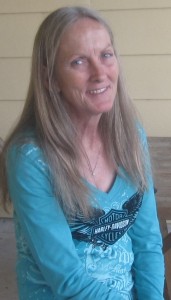 Kaye Smith died peacefully on March 16, 2015 in Houston, TX., where she was surrounded by all her loved ones. She was 58.
Kaye was born December 7, 1956 in Bay City, TX to her parents, Joe and Tommie Griggs.  She married the love of her life James "Bubba" Smith in 1978.  After moving around some they settled in Rockport with their two sons.  She was a loving wife, mother, grandma, and friend that would take anyone in and care for them no matter what.  She had a great sense of humor and always loved a joke.  One of Kaye and Bubba's favorite loves was to ride their Harley Davidson and watch the band Riptide.
Kaye is survived by her husband James "Bubba" Smith, her son and daughter-in-law, Steven and Amanda Smith; her son, Thomas Smith; her daughter, April Benavidez; her sister Carolyn Sue; her sister, Becky Dolan; her brother and sister-in-law, Joe Bill and Rosie Griggs; her brother, Jimmy; and 5 grandchildren.
She will be greatly missed and always kept in our hearts. Funeral Services will be held on Friday, March 20, 2015, at 2:00 P.M. with Family Visitation starting at 12:00 Noon in the Eckols Funeral Home Chapel in Kenedy, TX.  Interment will follow in the Kenedy Cemetery, Kenedy, TX