James Luther "Jim" Wheeler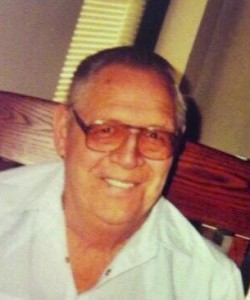 James Luther "Jim" Wheeler, age 78 of Kenedy, TX passed away on Monday, August 25, 2014 in San Antonio, TX.  Jim was born on December 15, 1935 in Winthrop, Arkansas to the late Henry Albert and Ruth Jetton Wheeler. He graduated from Taft High School in 1955 in Taft, California.  On March 9, 1964 he married Eddie Mae Waltersdorff in Cuero, TX who preceded him in death.  Jim served his country proudly for 2 years in the U.S. Army and retired as a truck driver-supervisor for Conoco Phillips.  Jim loved traveling throughout the United States, especially through the Colorado Rocky Mountains. He enjoyed spending time with his family and friends.  Jim was a kind, caring and loving husband, father, grandfather, great-grandfather, friend and he will be greatly missed.
He is preceded in death by his wife Eddie Mae Waltersdorff Wheeler, his parents Henry Albert and Ruth Jetton Wheeler and his brother Allen Wheeler.
He is survived by his daughter Karen Hartsfield and husband Mike; his sons Vernon Wheeler and Linda Hale, Randy Wheeler and wife Janie, Curtis Mueller and wife Diane, Carl Mueller and wife Jackie, all of Kenedy; his sister Flora Mae Howard of Bakersfield, CA; his brother Robert Wheeler and wife Sudsavad of Redding CA; and numerous grandchildren and great-grandchildren.
Visitation will begin at 12:00 Noon Thursday, August 28, 2014 with Family Visitation from 6:00 PM to 8:00 PM in the Eckols Funeral Home Chapel.  Funeral Services will be held Friday, August 29, 2014 at 11:00 AM in the Eckols Funeral Home Chapel.  Interment will follow in the Kenedy Cemetery.