Alvin Randy McDonald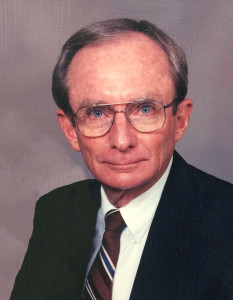 God graciously honored our prayers Sunday, March 30th and gently took our loving husband and father, Alvin Randy McDonald in his sleep after a prolonged illness in San Antonio, TX.  Born November 25, 1938 in Kenedy, Texas to Alvin John McDonald and Sybil Vickery, he was 75 years old.
Upon earning his degree from Lamar University, he served as a Civil Engineer for the Federal Highway Administration for 34 years.  Throughout his career he was instrumental in researching and implementing many new processes including the asphalt recycling program. He was a lifelong member of Chi Epsilon and a past Republican Chairman for Bee County.  A self-taught piano player, he couldn't pass up a piano without sitting down to play, always gathering a crowd.  He is survived by his wife of 53 years, Alene Hatcher of Beeville, TX with whom he enjoyed exploring the wonders of the United States with their children as his job took them all over the country.
He leaves behind three children who cherish the honor they have had of helping to care for him over the past few years; Pam Davis and husband Craig of Boerne, TX, Dana McDonald of Fort Worth, TX, and John McDonald and wife Kathryn of Skidmore, TX. He was very proud of his three grandchildren; Ben Davis and wife Marisa of New Boston, TX, Tara Ward and husband Preston of North Richland Hills, TX and Jacob Davis of Boerne, TX who remember him most fondly for the tall tales he would spin, always trying to figure out if they were real or not.  He was excitedly awaiting the arrival of his first great-grandchild in September.  He is also survived by his mother, Sybil McDonald of Corpus Christi, TX and sister Faun Stone and husband Don of Corpus Christi, TX.
Rejoicing that he is entertaining the angels tinkling the ivories and dancing in heaven, his family is grateful for this time they have had with their father and husband reliving and sharing the memories we've made during our lives together.
Graveside services will be held Thursday, April 3, 2014 at 1:30 pm at the Kenedy Cemetery in Kenedy, TX.
In lieu of flowers the family asks that donations be made in his memory to the Children Are a Gift Foundation at www.childrenareagift.org where the grandson who preceded him, Zackery Davis, is remembered, or the charity of your choice.