Sam G. Hemby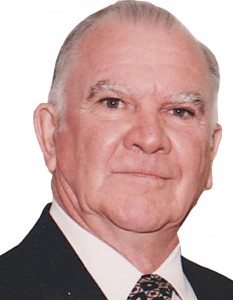 Sam G. Hemby, 85, passed away Friday, Feb. 7, 2014, at his home in Kenedy.
He was born June 24, 1928, at Rancho Grande in Lenz, to Sam Houston and Sadie Magee Hemby.  He graduated in 1946 from Kenedy High School and entered the U.S. Marine Corps. He served from 1946 to 1948 with Unit T in the First Tank Battalion, stationed at Camp Pendleton, and was a tank commander.  After service to his country, he returned to South Texas and went to Southwest Texas State University on the G.I. Bill. He worked in the oilfields of South and Central America before returning to his hometown to settle down, raise a family and farm and ranch on his acreage in Kenedy. He continued to work in the oil and uranium industries until retiring in 1982 from Chevron Resources.
In 1967, he married Kay Krause.  She preceded him in death in 1986. He married Pat Crowell in 1987. They enjoyed traveling. He also craved gaining knowledge about anything he could. He liked talking about arrowheads, his days in the oilfields of South America, his Limousine cattle and the crops on his farm.
He was preceded in death by his parents; his wife Kay; his five older siblings Medley Hemby, Mildred "Sis" Ladewig, Alta Blaise, Thelma "Mim" Hyltin and Nell Olsen; and his son Bill Hemby.
He is survived by his wife Pat; two sons Jim (Lisa) Hemby of Highlands, Texas, and Doug (Flordilisa) Hemby of Ore City, Texas; his daughter Julie (Fred) Nichols of Karnes City; five grandchildren Gerald Hemby of Fayetteville , Ark., Devon Hemby of La Porte, Texas, Meagan Hemby of Highlands, Dylan Nichols of Karnes City and DJ Hemby of Ore City; and numerous loving nieces and nephews.
Visitation was held from 5 p.m. to 8 p.m. Monday, Feb. 10, 2014, at Eckols Funeral Chapel, Kenedy. Funeral services began at 10 a.m. Tuesday, Feb. 11, 2014, at Eckols Funeral Chapel with the Rev. Sue Huntsman of First United Methodist Church, Karnes City, officiating.  A military burial followed in the Kenedy Cemetery.
Memorials may be made to the First United Methodist Church, Karnes City, to the American Heart Association or to the charity of one's choice.