Alfredo Ortiz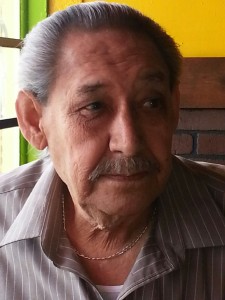 Alfredo Ortiz our beloved husband, father and grandfather was called home to be with his Heavenly Father on January 18, 2014 at the age of 67 years, 6 months and 9 days.
He was predeceased in death by his parents, Cruz and Antonia Ortiz; brothers, Doniciano and Isaac Ortiz; sisters, Brigida Serenil, Juanita Ochoa, and Pura Cruz.
He is survived by his wife of forty two years, Rosa Maria Ortiz; his daughters, Yolanda Gonzales; Nora Moncavias and her husband Pedro; Marisol Garza and her husband Jesse; son, Cruz Ortiz and his wife Joann, all of San Antonio; Grandchildren Jessica, Ashley, Emma, Michelle, Crystal, Joshua, Nicole, Cruz Jr. Samantha, Justin, Christopher and Adrian; his brothers, Victor Ortiz and his wife Gloria; Roberto Ortiz and his wife Sylvia; Cruz Ortiz and his wife Manuela; and Daniel Ortiz;  his sisters, Antonia Torres, Alice Rossett and her husband Larry; all of San Antonio, and numerous nieces and nephews.
Serving as pallbearers will be, Cruz Ortiz, Jesse Garza, Angel Cruz, Joshua Ortiz, Justin Hettler, Christopher Hettler and John Raye Carmona.
Visitation was held, Monday, January 20, 2014, in the Eckols Funeral Home, Inc., Kenedy, Texas, and a prayer service was held Monday at 6:00 P.M., in the funeral home chapel. Funeral services were held, Tuedsday, January 21, 2014 in the funeral home chapel at 1:00 P.M., followed with interment in the Loma Alta Cemetery, Kenedy, Texas.
The family wishes to give special thanks to Dr. David Friedman, and staff at the Cancer Care of South Texas.