Claudia Guerra Davila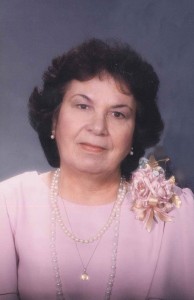 C
laudia Guerra Davila, a lifelong resident of Kenedy, Texas, entered eternal rest, Saturday, January 4, 2014 at 7:51 P.M., in the Bluebonnet Nursing and Rehab Center in Karnes City, Texas at the age of 88 years, 1 month and 1 day.
Claudia was born December 3, 1925 in Fashing, Texas the daughter of Fermin Guerra and Amada Gonzalez Guerra. In 1941, after a world wind romance, Claudia married Antonio Treviño Davila. Together the two of them owned and operated Davila Garage in Kenedy, Texas, where Claudia tended to the front office and kept the books.
Mrs. Davila is preceded in death by her parents, Fermin and Amada Guerra; her son, Antonio Davila, Jr.; her sisters, Celia Alejandro, Ninfa DeLaGarza and Belia Friesenhahn and her brothers, Benito Guerra, Manuel Guerra and Guadalupe Guerra. Claudia is survived by her beloved husband of 72 years, Antonio T. Davila and her sons, Manuel Davila and wife Madelon of Kenedy, Alfred G. Davila and wife Viola of San Antonio and Rudy Davila and wife Sylvia of Victoria. Claudia is also survived by her 5 grandchildren.
Visitation will begin at 8:00 A.M., Wednesday, January 8, 2014 in the Eckols Funeral Home Chapel, Kenedy, Texas. A rosary will be recited; Wednesday, January 8, 2014 at 10:00 A.M., at Our Lady Queen of Peace Catholic Church with the Celebration of Mass to follow at Our Lady Queen of Peace Catholic Church, with Rev. Norbert Herman officiating. Interment will follow in the Loma Alta Cemetery.