Elenora Rose (Kotara) Braudaway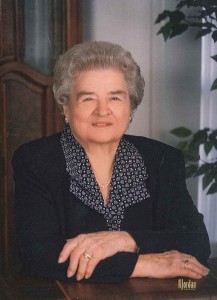 Elenora Rose (Kotara) Braudaway, loving wife, mother, and  grandmother,  went to be with our Heavenly Father on November 23, 2013 surrounded by family. Elenora was born on February 19, 1921 in Cestohowa, Texas to the late Alexander and Emelia (Pawelek) Kotara.  She married John Henry Braudaway, Sr. on August 13, 1939 in San Antonio, Texas. They were married for sixty years until John preceded her in death in 1999.  Elenora was also preceded in death by her sister, Betty Laskowski, her brother, Sam Kotara, Sr., her son, Sherwin Glen (Joe) Braudaway and her grandson, Gerald Braudaway.  Elenora is survived by her sisters, Theresa Warzecha of San Antonio, Texas and Lourine Kotzur of McCook, Texas and her children, John  Braudaway, Jr. (Charlene) of Karnes City, Texas, Melton (Bits) Braudaway (Margie) of San Antonio, Texas, Jessie Braudaway (Carolyn) of Springfield, VA, Alton Braudaway (Karen) of Zephyr, Texas, Genevia Hahn (Charles) of Westhoff, Texas and Sharon Champagne (Keith) of Bedford, Texas.  She is also survived by her grandchildren, Michael Braudaway (Tammy), Britton Braudaway (Susan), Chaliise Mackey (Douglas); Douglas Braudaway (Willie), David Braudaway, Jennifer Braudaway, Glynn Braudaway (Barbara); Patricia Green (Marty); Blayn Hahn (Renee); Stephen Champagne (Monica) and Joanne Sparks (Jay), numerous grandchildren, great grandchildren and great-great grandchildren. Elenora was a wonderful cook and liked to can all kinds of fruits and vegetables.  She liked gardening and loved flowers, but, most of all, Elenora loved caring for her family and friends.
The family will receive friends and family at Eckols Funeral Home on Tuesday, November 26 from 5:00-7:00 followed by a rosary service at 7:00 P.M.  A mass will be held at 10:00 a.m. on Wednesday, November 27 at Our Lady of Peace Catholic Church in Kenedy, Texas, officiated by Norbert Herman, followed by a burial at the Choate Cemetery and reception at the Choate Community Center.  The pallbearers are Michael Braudaway, John Austin Braudaway, Clinton Braudaway, Britton Braudaway, Douglas Braudaway, David Braudaway, Glynn Braudaway, Blayn Hahn and Stephen Champagne with her great grandsons as alternate pallbearers.  Donations may be made to the Choate Cemetery Fund.
The family would like to thank the staff of the Bluebonnet Nursing and Rehabilitation Center for its years of caring for Elenora, Nurses In Touch for its hospice care and Dr. Roberto Ramirez as her doctor.