David Chapa, Sr.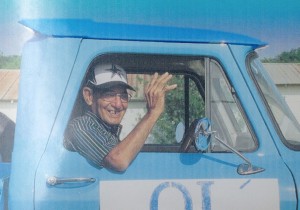 David Chapa, Sr., a lifelong resident of Kenedy, Texas, passed away, Wednesday, May 8, 2013 at 8:45 P.M., in San Antonio, Texas at the age of 79 years, 4 months and 15 days.
David was born on December 23, 1933 in Mineral, Texas the son of Abundio Chapa and Celedina Zambrano Chapa. On September 13, 1953, David married Juanita Ortegon in Kingsville, Texas. David was of the Catholic faith.
David is survived by his beloved wife of over 59 years, Juanita Ortegon Chapa of Kenedy; his daughters, Olivia "Libby" Chapa of San Antonio and Odilia Shuttlesworth of Corpus Christi; his sons, Armando Chapa of Buford, Georgia; Israel Chapa and wife Grace of Victoria; David Chapa, Jr., and wife Andrea of Seguin and Roy Rodriguez of Beeville; his sister, Maria Gonzalez and his 9 grandchildren and 3 great-grandchildren. Mr. Chapa is preceded in death by his parents; his sister, Emilia Guerrero and his brothers, Francisco and Luciano Chapa.
Visitation was held, Monday, May 13, 2013 in the Eckols Funeral Home Chapel and a rosary was recited at 7:00 P.M., Monday, May 13, 2013, in the funeral home chapel. Funeral mass was celebrated at 10:00 A.M., Tuesday, May 14, 2013 at Our Lady Queen of Peace Catholic Church with Rev. Norbert Herman officiating. Interment followed in the Sacred Heart Cemetery, Kenedy, Texas.