Nicholas "Nick" Timothy Jacques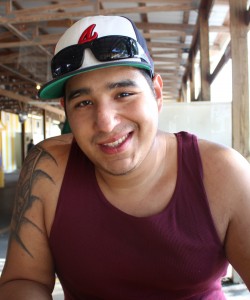 Nicholas "Nick" Timothy Jacques, a lifelong resident of Kenedy, Texas, died, Tuesday, April 9, 2013 at his residence in Kenedy, at the age of 21 years.
Nick was born January 23, 1992 and raised in Kenedy, the son of Frank Guerra and Jacqueline Jacques. He attended Kenedy schools and graduated A.C. Jones High School in Beeville, Class of 2010. After graduating, Nick began working as a pipeline fabricator. He enjoyed going out, spending time with his friends and was of the Christian faith.
Nick is survived by his mother, Jacqueline Jacques and Robert; his father, Frank Guerra; his wife, Roxanne Guzman; his maternal grandparents, Faustino and Janie Jacques; his paternal grandmother, Juanita Dominquez; his sisters, Jestine Hinojosa, Autumn Hinojosa and Miranda Villarreal; his aunts and uncles, Patricia and Jerry Castillo, Johnny and Stacie Jacques, Teresa Jacques and J.J. Jacques and numerous cousins and a host of friends. He is preceded in death his paternal grandfather, Harold Guerra.
Visitation was held from 7:00 – 9:00 P.M., Friday, April 12, 2013, in the Eckols Funeral Home Chapel in Kenedy, Texas. Funeral services were held, Saturday, April 13, 2013 at 11:00 A.M., in the Eckols Funeral Home Chapel, with interment following in the Kenedy Cemetery. Serving as pallbearers were, Aaron Castillo, Zeekie Jacques, Alfredo Amaya, Jr., Kyle Gomez, Larry Guzman, Jr. and Rico Flores. Honorary pallbearers were, Brandon Castillo, Robert Briones, Andrew Villarreal, Santina Carrasco, Cecilio Lopez and Jacob DeLeon.