Dorla Jean Hanks Hyde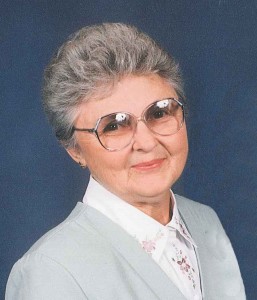 Dorla Jean Hanks Hyde, a resident of Kenedy, Texas, passed away, Friday, February 1, 2013 at 7:33 A.M., in the Metropolitan Methodist Hospital in San Antonio, Texas, at the age of 81.
Jean was born, October 2, 1931, in Bennington, Oklahoma, the daughter of Calvin Hanks and Nancy Hanks. On October 4, 1946, Jean married Ray Hyde in Mission, Texas. Jean was a devoted homemaker and a member of the First Baptist Church of Kenedy.
Jean is survived by her sons, Ron Hyde and wife Pat of Kenedy, Glen Hyde and wife Candy of Roanoke, Bill Hyde and wife Teresa of Amarillo; her daughters, Pam Olson and husband Alan of Clear Lake and Nancy Orsak and husband Andrew of Warner-Robbins, Georgia; her brother, Jack Hanks and wife Mabel of Weslaco, Texas; her grandchildren, Amanda Conine, Emily Fumuso, James Hyde, Julie Smith, Chris Olson, Jeffery Olson, Matthew Orsak and Adam Orsak; her great-grandchildren, Lexie Olson, Olivia Olson, Madilyn Orsak, Destiny Orsak, Hailey Rae Orsak, Gabriel Orsak, Luke Hyde, Grant Hyde, Caroline Conine and Eloise Conine. She is also survived by numerous nieces and nephews and her dear friend and caregiver, Clint Priest. Mrs. Hyde is preceded in death by her parents; her husband of over 57 years, Ray Hyde; her brother, Albert Hanks and her sisters, Pat, Cleo, Bobbie, Leona and Alice.
Visitation will be held, Sunday, February 3, 2013, from 4:00 P.M. – 6:00 P.M, in the Eckols Funeral Home Chapel, Kenedy, Texas. Funeral services will be held at 2:00 P.M., Monday, February 4, 2013, in the Eckols Chapel officiated by Rev. Tim Williams and Pastor T.J. Burris. Interment will follow in the Kenedy Cemetery, Kenedy, Texas. Serving as pallbearers will be, Chris Olson, Jeffrey Olson, Adam Conine, Marc Fumuso, Andrew Orsak, Paul Garza, James Hyde, Jerry Reid, Adam Orsak, Alan Olson and Matthew Orsak.
In lieu of flowers, memorials may be made to the South Texas Children's Home, P.O. Box 1210, Beeville, Texas 78104.