Ofelia Cruz Cortez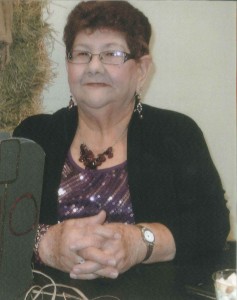 Ofelia Cruz Cortez, passed away, Sunday, December 2, 2012, in Kenedy, Texas at the age of 68 years, 4 months and 18 days.
Ofelia was born, July 14, 1944, in Elsa, Texas the daughter of Jose Angel Cruz and Amelia Flores Cruz. Ofelia was of the Catholic faith.
Ofelia is survived by her beloved husband, Zacarias Cortez; her daughters, Esmeralda Cano and husband Joseph of Beeville, Texas, and Irene Vega and husband Ramiro of Kenedy, Texas; her sons, Armando Cortez and wife Dora of Beeville, Texas, Rudy Cortez and wife Denise of Kenedy, Texas, and Rickey Cortez and wife Belinda of Beeville, Texas. Ofelia is also survived by her 16 grandchildren and 12 great grandchildren. Mrs. Cortez is preceded in death by her parents.
Visitation was held, Monday, December 10, 2012, and a rosary was recited Monday, at 7:30 P.M., in the Eckols Funeral Home Chapel, Kenedy, Texas. Funeral mass was celebrated at 10:00 A.M., Tuesday, December 11, 2012, at Our Lady Queen of Peace Catholic Church, Kenedy, Texas, with Rev. Norbert Herman officiating. Interment followed in the Runge Cemetery with, Irene Vasquez, Jaime Cortez, Armando Cortez, Jr., Zacarias Cortez, Christopher Cortez and Rickey Cortez, Jr., serving as pallbearers.