Margaret "Mickey" Louise Kolinek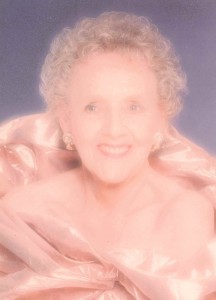 Margaret "Mickey" Louise Kolinek, a longtime resident of Kenedy, Texas, entered eternal rest, Friday, August 10, 2012, at 9:00 P.M., at the John Paul II Nursing Home in Kenedy, at the age of 87 years, 8 months and 11 days.
Mickey was born December 9, 1924, in Runge, Texas, the daughter of Roy Cloud and Ninnie Stockton. On October 6, 1961, Mickey married Adolph Kolinek, Jr., in Kenedy, Texas.
Mickey is survived by her husband, Adolph Kolinek, Jr., of Kenedy, Texas; her children; Judy Newman and husband Jimmy of Leesville, Texas; Neva Schmidt and husband Terry of Kenedy, Texas and David Theuret of Kenedy, Texas; her nine grandchildren, Bobby Newman and wife Traci; Shelia Stone and husband Tony; Wesley Theuret and wife Lisa; Walker and wife Roxanne; Kolin Schmidt; Carl Schmidt; Teryn Schmidt; Kerry Schmidt and Tina Theuret; her great-grandchildren, Tyler, Jordan, Ashton, Dustin, Colby, Lane, Sarah, Devyn, Wes, Emmersyn, Derrick and Darren. Ms. Kolinek is preceded in death by her parents, her 13 brothers and sisters and her 1 grandson, Scotty Newman.
Visitation was held, Tuesday, August 14, 2012, from 7:00-9:00 P.M., in the Eckols Funeral Home Chapel, Kenedy, Texas. Funeral services were held at 10:00 A.M., Wednesday, August 15, 2012, in the Eckols Chapel, with Rev. Jimmy Newman officiating. Interment followed in the Kenedy Cemetery. Serving as pallbearers were, Mickey's grandsons; Bobby Newman, Wesley Theuret, Walker Theuret, Carl Schmidt and Kolin Schmidt and Lane Newman. Honorary pallbearers were her great-grandsons; Dustin and Colby.
In lieu of flowers the family requests that donations be made to the American Cancer Society; PO Box 22718, Oklahoma City, OK 73123 or the Good Shepherd Lutheran Church.