Jimmy Flores Estrada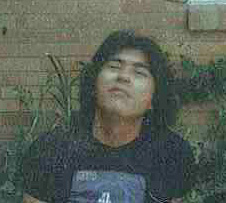 Jimmy Flores Estrada passed away, Monday, March 12, 2012 at the John Paul II Nursing Home in Kenedy, Texas, at the age of 56 years, 11 months and 6 days.
Jimmy was born April 3, 1955 in Altum, Texas the son of Juan and Petra Flores Estrada. He attended school in Kenedy and later went on to work in various fields of maintenance for both the City of Kenedy and the City of Beeville.
Jimmy is survived by his daughters; Erika Estrada of Huffman, Melissa Estrada and Sabrina Estrada, both of Runge; his son, Jimmy Lee Garza of Karnes City; his aunts, Isabell and Dora Estrada of Kenedy; his sisters, Francis Estrada of Kenedy and Peggy Luis Perez of Houston; his brothers, Juan Estrada and wife Crystal and Paul Estrada, both of Kenedy; and his grandsons, Jakob McDonald and Aiden Billman of Huffman. Jimmy is also survived by numerous nieces and nephews. Mr. Estrada is preceded in death by his parents, Juan and Petra Estrada.
A rosary was recited at 7:00 P.M., Thursday, March 15, 2012, in the Eckols Funeral Home Chapel. Funeral mass was celebrated on, Friday, March 16, 2012 at 10:00 A.M., at Our Lady Queen of Peace Catholic Church with Rev. Norbert Herman officiating. Interment followed in the Loma Alta Cemetery.