Thomas Ray "Tray" Vickery, III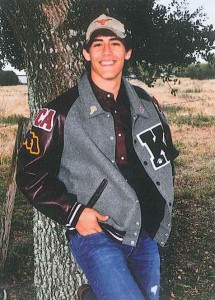 Thomas Ray "Tray" Vickery, III, a lifelong resident of Kenedy, Texas, died, Thursday, March 1, 2012, at the age of 19 years and 17 days.  
"Tray" was born on February 13, 1993 to Thomas Ray Vickery, II and RoseMary Dovalina Vickery in Victoria, Texas. He was raised in Kenedy and attended Kenedy Schools where he graduated from, Class of 2011. He and his family were all active members in the First Baptist Church in Kenedy. Tray was also an active member in the Fellowship of Christian Athletes, the FFA, The 4-H and played football. Tray never failed to find time for volunteering so freely; wherever and whenever it was needed.
Hunting hogs with his dogs was a passion only surpassed by his love for his Savior Jesus Christ. Tray truly cherished his family and his friends and enjoyed spending time with each of them.  He was a happy young man with an infectious smile and a servant's heart that never met a stranger; no matter what their age.
Tray leaves behind his parents, Thomas Ray, II, and RoseMary Vickery; his grandmother, Elaine Vickery; his grandparents Lewis and Maria Collins; his sisters, Lillian Vickery and Laurel Vickery; his brother, Travis Vickery; and his aunts and uncles, Brain and Kathy Vickery, Stacey Vickery, Roger and Belinda Dovalina, John and Rachel Dovalina, Sally Dovalina and Michael and Sarah Booker.
The family received friends on Sunday, March 4, 2012 from 4:00 – 8:00 P.M. in the Eckols Funeral Home Chapel. A Celebration of Life was held on Monday, March 5, 2012 at 1:00 P.M. in the First Baptist Church, Kenedy, Texas officiated by, Rev. John Wheat.
In lieu of Flowers the family respectfully requests that donations be made the Tray Vickery Memorial Fund c/o Wells Fargo.  
Serving as pallbearers were, Corky Vickery, Ajax Vickery, Travis Vickery, Brian Vickery, Roger Dovalina and John Dovalina. Serving as Honorary Pallbearers will be Max Vickery, Michael Booker, Noble Gilchrest, Joseph Barkley and Joe Escandon.