Erna Hilda Boerm Borgfeld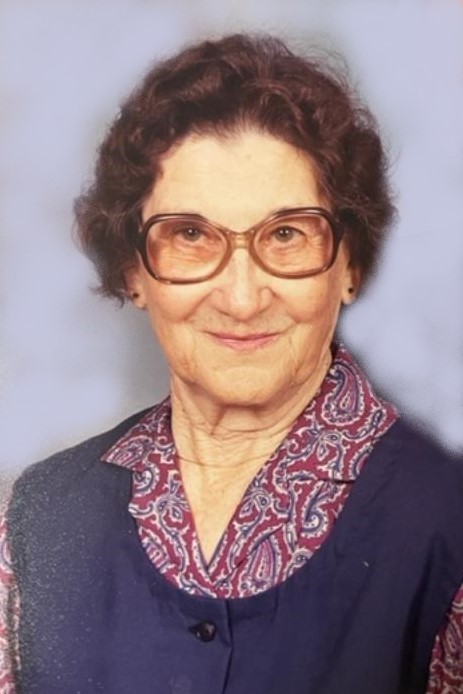 Erna Hilda Boerm Borgfeld went to heaven on February 15, 2023. She was born April 25, 1926 in the country, near Nordheim, Texas. She went to school through the third grade in a local country school, following which she stayed home to help her mother and grandfather on the farm. She married her best friend, Alton Borgfeld on August 1, 1944 prior to his leaving for World War II military service. They lived on Erna's mother farm between Nordheim and Runge. In 1964, they moved to Karnes County to their own farm, raising chickens, cows, pigs and sheep. She was an awesome cook and seamstress. She loved to crochet and sew, often making many gifts for family and friends. She was a member at St. Paul's Lutheran church. Erna has missed Alton terribly since his death in 2017, ending 73 years of marriage. In 2018, due to health issues, Erna moved to Round Rock, Texas, to be near her only son, Curt and his family.
Erna was the last surviving member of her family. She is predeceased by her husband Alton; her grandson, Kyle Borgfeld; her parents and her 6 siblings. She is survived by her son, Curt Borgfeld, his wife, Lynette; her grandchildren Sawyer Borgfeld, Kelly Borgfeld Woods (spouse Ryan Woods), and Kevin Borgfeld. She is also survived by nieces, nephews and their families.
Many thanks to the people that have helped care for Erna, during these last few years, including Mary Patrick, an independent caregiver. Also thanks to the Round Rock Brookdale staff and caregivers, as well as, St. David's hospice nurses, caregivers, musical therapy, and chaplain services.
Visitation will be on February 26th of 2023, from 2 pm. until 5 pm. Funeral services to held at 2 pm on February 27th of 2023. All services will be at Echols Funeral Home, 420 West Liveoak Street, Kenedy, Texas 78119. Interment will follow in the Nordheim Cemetery, Nordheim, TX.
Memorials can be given to the Nordheim Cemetery or to charities of your choosing.