Robert K. Blomstedt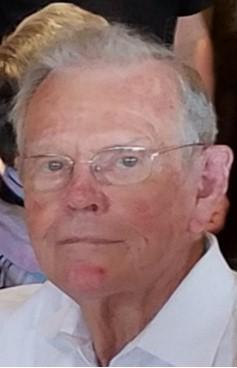 Robert K. Blomstedt (1931- 2023)
Robert (Bob) was born at home on the family farm where he worked during his youth. He was the second son of Carl Gus and Laura Gustafson Blomstedt. He graduated from Pawnee High School in 1948. After that, he received a B.S. in Education at Texas Lutheran University. While a student there, he lettered in baseball, became vice-president of the student body, and served on many committees. A few years after graduating, he returned to TLU and served two years as Executive Director of Admissions. Not long after that, Bob was able to complete both his Master's and Ph.D. degrees from the University of Texas in Austin. His career in education extended over 60 years, including teaching math in the public school systems of Kenedy, Refugio, and Arlington ISDs. The last 43 years of his career were spent as a Professor at Texas A&M University-Kingsville. While serving there, Bob had numerous articles published in professional journals and in several newspaper forums. He was listed in several biographical volumes, including Outstanding Educator of America, Personalities of the South, Who's Who in the South and Southwest, Who's Who in America, and the International Who's Who of Intellectuals. Bob cherished his life in education, and he dearly loved teaching and interacting with his students, of whom he became very close to.
Bob was equally a man of great faith. While in Kingsville, he was a very active member and Deacon of the First Baptist Church, where he served in many capacities throughout the years. Bob was also on the Executive Committee of Texas Baptist Men. It was a great joy to discuss scripture with him, and he made an immense impact on his family, friends, and those whom he encountered.
During his life, Bob was married to Dotsy Elliott from 1953 until her tragic death in 1956. Later, he married Dona Linder in 1959, and they were married for 63 years until his death.
He was preceded in death by his father and mother, Carl (Gus) and Laura Blomstedt; by his older brother, Curtis Blomstedt (Carolyn); by his first wife, Dotsy Elliott Blomstedt; by a sister, Gladys Lorraine Blomstedt; and by a step-father, Emil Cederblom.
He is survived by his wife, Dona, and his three children: Kirby Blomstedt (Rali), Russell Blomstedt, and Tarin Moffitt (Thomas); seven grandchildren: Nick Blomstedt (Michelle), Dallas Taylor (Kendall), Tara Erstein (Elliott), Matt Blomstedt (Gretchen), Karissa Blomstedt, Jake Moffitt (Michelle), Jordan Moffitt (Whitney); and eleven great grandchildren: Colin and Elin Blomstedt, Kasen and Rory Taylor, Emmett, Beau, and Otto Erstein, Brady Blomstedt, Reese and Kaelyn Kuhn, and Scarlett Moffitt. Bob is also survived by a brother, Ron Blomstedt (Karen).
Visitation will be held from 11AM to 1PM Saturday January 21, 2023 with Services starting at 1:00 P.M. in the Eckols Funeral Home Chapel with Ronnie Blomstedt officating. Intemerment will follow in the Elim Lutheran Cemetery in Elim, TX.
Pallbearers include Thomas Moffitt, Jake Moffitt, Jordan Moffitt, Ransom Jones, Steve Blomstedt, and Carl Gustafson.
Honorary Pallbearers are Ronnie Blomstedt, Cliff (Gus) and Marvin Gustafson, and Ransom Jones.
Fellowship and a reception will be held at the Good Shepherd Lutheran Church Fellowship Hall on Saturday, January 21, 2023, immediately following interment at the Elim Lutheran Cemetery.
In lieu of flowers, memorial donations can be made to: The First Baptist Church of Kingsville, 312 W. King Ave., Kingsville, TX 78363, or the Parkinson Research Foundation, 5969 Cattleridge Blvd., Ste. 100, Sarasota, FL 34232.