Kerri Elizabeth Mauch Kirby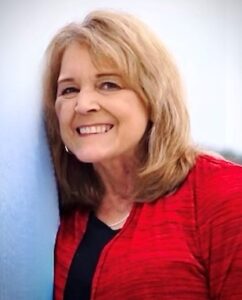 Heaven gained a beautiful soul on March 15, 2022 when Kerri Elizabeth Mauch Kirby, 53, peacefully passed away in Austin, TX.  Whether you knew her as a wonderful wife, mother, daughter, sister, coach, teacher, or friend, one thing is for sure:  her smile was legendary, she was an inspiration to others, and she was loved by many.
Born November 13, 1968 in Karnes City, TX to Joe and Peggy Ferguson Mauch, Kerri was a fighter from day one.  While in school, she was well known for her good heart, athleticism, perfectionist nature, patience, leadership, and ability to play the trumpet.  She graduated as the Valedictorian from Kenedy High School in 1987.
After graduation, Kerri was diagnosed with rheumatoid arthritis at the age of 18, but it did not stop her from attending and graduating from The University of Texas May 1991 where she obtained an English degree with a minor in Journalism.  While in college, she was the manager for the Lady Longhorn basketball team.  She was thrilled to be involved with the team and help contribute to their success since she was no longer able to play sports.
Kerri started her teaching career at Manor ISD in the fall of 1991 teaching English and coaching at the junior high school.  While at Manor, she soon moved up to the high school where she continued to coach volleyball, basketball, and track as well as teach English until she started the Credit Recovery Program at Manor High School.  Here she helped many students achieve their dream of graduation.  When she was coaching, her devoted husband was often seen and heard in the stands, and it was not uncommon for Kerri's family to be there in support of her teams as well.  While at Manor, she enjoyed many successes as the Varsity Basketball coach and Assistant Track coach including Regional Finalists in Basketball and the girls team winning state in track one year.  Kerri was the jumpers' coach, and for many years, one of her athletes, girls and boys, placed at state as well.
Kerri met the love of her life, Joey Kirby, in September 1991 when friends arranged for them to meet at their house on a Sunday evening.  Both Kerri and Joey almost didn't go that night, but were they ever so glad they did!  Kerri and Joey planned to go on an official date by themselves the next night, but Kerri was coaching 7th grade girls volleyball.  Since Joey was also a sports fan, he said he would go to the game before they went to eat at Kerri's favorite restaurant, Olive Garden.  That night, Joey became a Manor Mustang fan, as Kerri asked him keep the score for the game.  They were engaged just a few months later and married on August 8, 1992 in Kenedy.  Kerri and Joey eventually settled in Bastrop to raise their family and attended Calvary Baptist Church.
During their nearly 30 years of marriage, it would be impossible to count how many sporting events they attended cheering on their favorite Manor or Cedar Creek team.  They also thoroughly enjoyed UT football and basketball games.  Their daughters were no stranger to the basketball gym or softball field, and Kerri and Joey were always there to support them and their teammates.  When not in a sporting season, the family enjoyed making memories while traveling on vacations.  Kerri's nephews and nieces also held a very bright spot for her, and she and Joey loved to support them and attend their many sporting activities, dance recitals and dirt bike races.  If Kerri was able to find any downtime, you could find her reading a good book or spending time at the lake.
Even after retiring from Manor ISD in 2017 after 21 years of coaching and 27 years of teaching, Kerri continued her love for helping students by tutoring, teaching online, coaching Hoop Stars and being the official bookkeeper for her daughter's softball team.  Her love for helping others succeed was evident by the many lives she touched, and she never let her illness define her or stop her short of what she wanted to achieve.
Kerri is survived by her husband, Joey Kirby of Bastrop, daughters Jordan Kirby and Meagan Kirby of Bastrop, mother Peggy Mauch of Kenedy, sister Kimmi (Craig) Cantwell of Kenedy, and sister Kristi (Jason) Shryock of College Station along with numerous nieces and nephews.  Kerri was preceded in death by her father, Joe Mauch, Jr, and a niece and a nephew.
Her family encourages everyone to have Kerri's same positive attitude and follow her own words:  "Everyone has their own challenges they must face – I just choose not to let mine rule my life!"
There will be a visitation on Monday, March 21, 2022 from 5:00p.m. to 7:00p.m. with funeral services following on Tuesday, March 22, 2022 at 11:00am.  Both will be at at Eckols Chapel with Richard Robinson officiating the service.  Interment to follow in the Kenedy Cemetery.  Pallbearers:  James Foster, Aaron Kirby, Adam Kirby, Kyle Kirby, Gary Krause, and Fred Nichols.  Honorary Pallbearers:  Russell Chesser, Chance Kirby, and Ray Robbins.
In lieu of flowers, memorials can be made to St. Jude Children's Research Hospital, Arthritis Foundation, Pawnee United Methodist Church, or the charity of your choice.