Abel P. Villanueva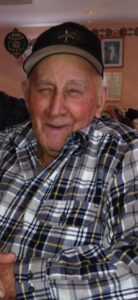 Abel P. Villanueva of Kenedy, Texas was born on April 21, 1929 in Karnes County, Texas to the late Francisco Villanueva and Galdina Perales Villanueva passed away surrounded by his loving family on Tuesday, February 8, 2022 at the age of 92.
Mr. Villanueva was a loving husband, father, and grandfather. he was kind, honest and a hard worker. He worked as a FRP laminator with Wishert &Thompson for many years.
Mr. Villanueva was preceded in death by his parents, Francisco and Galdina Villanueva; his wife of 48 years: Juanita Servantes Villanueva, a son: Johnny Villanueva; his brothers: Candelario, Vicente, Ausencio "Chencho", Roberto, Dionicio, and Francisco Villanueva; sisters: Virginia Rios, Julia Silva and Tila Perales.
He is survived by his daughters: Rose Mary Villanueva of Karnes City, TX and Norma ( late Jessie) Mendoza of Karnes City, TX; sons: Gilbert (late Diana"DeeDee") Villanueva of Karnes City, TX, Raymond Villanueva of Humble, TX, Davy (Patty) Villanueva of Karnes City, TX, Daniel Villanueva of Kenedy, TX; 15 grandchildren and one on the way and 14 great grandchildren; sisters: Angelita (Jerry) Hamm of Norman, OK and Maria Elena (Carlos) Cortez of Kenedy, TX; brothers: Jesus Villanueva of Kenedy, TX and Servando Villanueva of Garden City, KS; many nieces, nephews and other relatives.
Visitation will be held on Monday, February 14, 2022 at 5:00p.m. to 9:00p.m. at Eckols Chapel. A Rosary will be recited at 7:00p.m. Monday, Feb. 14th, 2022 at Eckols Chapel. Funeral services will be held on Tuesday, February 15, 2022 at 10:00a.m. at Our Lady Queen of Peace Catholic Church with Rev.  Stanislaw "Stanley" Marciniak officiating. Interment to follow in Loma Alta Cemetery.
Pallbearers: Gilbert Villanueva, Raymond Villanueva, Davy Villanueva, Daniel Villanueva, Joe "Joey" Morin III, Jessie Mendoza Jr., Davy Isaiah Villanueva Jr. and Gilbert Villanueva Jr.
PER REQUEST OF THE VILLANUEVA FAMILY-PLEASE WEAR YOUR MASK TO VISITATION/ ROSARY / AND  FUNERAL SERVICES!
IF YOU ARE EXPERIENCING SYMPTOMS, PLEASE REFRAIN FROM ATTENDING.
THANK YOU FOR YOUR COOPERATION AND UNDERSTANDING.