Patricia Ann "Patsy" Schendel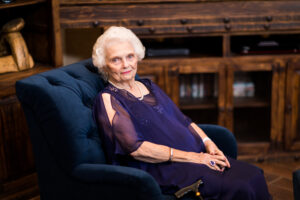 Patricia Ann "Patsy" Sistrunk Schendel, longtime resident of Runge, Texas passed away on January 16, 2022 at the age of 90. Patsy was born on November 6, 1931 in Yoakum, Texas to the late Ellis and Jewel Dromgoole Sistrunk.  She married Emil "Parky" Schendel Jr in Runge, Texas on August 20, 1950.
Patsy was a loving wife, mother, grandmother, great-grandmother, and a devout member of First United Methodist Church in Runge. Patsy from early on enjoyed building houses or remodeling them, painting, wallpapering, staining, you name it, she could do it.  She loved antiques and did her share of refinishing many pieces.  She was a card player and never turned down an opportunity to play  when someone called or wanted to go to Vegas. She loved to crochet, knit, needlepoint, cross stitch, etc. To travel was so much fun for Patsy.  She planned and went on numerous trips, too many to count from the time she was a little girl up until her last trip to Alaska with her entire family.  She always had her suitcase ready if an opportunity arose. Patsy was a social, classy lady and loved visiting and sharing stories with anyone she met.  She was an expert at growing plants and flowers and in case you didn't know, she loved the color blue. Patsy worked at Runge Butane many years.  She loved collecting pigs so much she opened her own gift shop in Runge called Patricia's Piglet.  Patsy loved the Lord and always made it a priority to do whatever she could or needed to be done for her church and to help the pastors. Although Patsy hadn't been able to travel the past several years, I know without a doubt she just went on the best trip of her life.  We all loved her and will miss her dearly.
She is preceded in death by her parents, Ellis and Jewel Dromgoole, husband Emil "Parky" Schendel Jr. and sister Polly Marie Porter.
She is survived by her sons Tommy Schendel of Kingwood, Texas, Parker Schendel of Runge, Texas, Todd and Bonnie Schendel of Beeville, Texas and Tracey Schendel and Darlene Janssen of Runge , Texas. Grandchildren, Deidre Schendel and Vernon Janssen III and her children  Hailey and Cameron Lakey of Runge, Tiffany and Garrett Tindol and their children Madelyn and Grayson Tindol, Natalie and Mancil Crotwell, and Kelsey Schendel all of Beeville, Texas and Cheyenne Janssen of Runge, Texas.
Visitation will be held Wednesday, January 19, 2022 from 10:00 A.M. to 11:00 A.M. with services starting at 11:00 A.M. at the First United Methodist Church in Runge, Texas with the Reverend James Schendel officiating. Interment will follow in the Runge, Cemetery, Runge, Texas.
Serving as Pallbearers will be Garrett Tindol, Chase Janssen, Mancil Crotwell, Cameron Lakey, Russell Osburn and Trevor Schuenemann.
Memorials may be made to the American Cancer Society.
A special thank you to her loving caregiver, Janie Garza and family for all their wonderful care.