Brenda Peeples Ford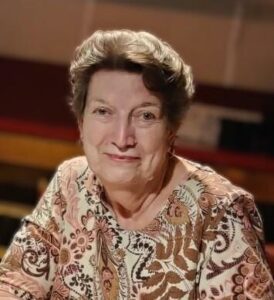 Brenda Peeples Ford of Kenedy, Texas was born on April 3, 1942 in Kenedy, Texas to Rufus Peeples and Lois Grubbs. She passed away on January 9, 2022, in San Antonio, Texas at the age of 79.
Brenda worked for Karnes Electric in the billing department for many years and as Head Cashier. She made many friends there. She had a group of co-workers who stayed in touch after she retired. They named themselves the "Golden Girls". They would get together to celebrate each other's birthday.
Brenda is preceded in death by her beloved husband, James Bartlett Ford Jr. and her parents, Rufus and Lois Peeples. She is survived by her nieces and nephew: DeeDee (David) Orsak of Louisiana, Rob Underbrink of Kenedy, TX, Brenda Lea Underbrink of Kenedy, TX, Joy (Patrick) Tam of Kenedy of Kenedy, TX; sisters-in-law: Mary Louise Underbrink and JoAnn Slane both of Kenedy, TX; and numerous great nieces, nephews, cousins, and other relatives.
Brenda and James were happily married for 49 years. She loved the color purple and putting together puzzles and watching movies. She loved Elvis Presley's music.
Every summer she looked forward to heading to Port Aransas. Her favorite things to do there were sitting on the balcony and watching the ships go in and out of the ship channel. She also loved riding the beach buggy on the shore of the beach as the sun set.
Her other favorite place to visit was Fredericksburg. She loved staying at a beautiful airbnb in the country there. She enjoyed watching the deer go by and doing some shopping.
Brenda was a devout member of the Church of Christ in Kenedy, Texas.
Brenda will be greatly missed by her family and friends. We have many precious memories of our times together that we will always cherish.
Visitation will be held on Wednesday, January 12, 2022 at 10:00a.m. to 11:00a.m. with Funeral services beginning promptly at 11:00a.m. at Eckols Chapel with Russell Briley officiating. Interment in Kenedy Cemetery.
Pallbearers: Pat Tam, Patrick Tam, Kevin Tam,Carlos Arenas, Jr. and Kye Maddox.
Memorials may be made to the Kenedy Church of Christ, 729 W. Main St. Kenedy, TX 78119.