John Henry Fransen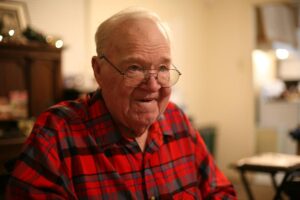 John Henry Fransen, Age 85 of Kenedy, Texas, passed away in his home on Wednesday, January 5, 2022.  He was born in Kenedy, Texas to Henry and Lillie Fransen on May 9, 1936 and attended school in Kenedy while helping on the family farm.  John married Joyce Elaine Haner on June 20, 1959 at St. Matthews Lutheran church in Kenedy and they were married for 61 years before her passing in May 2021. John and Joyce spent time in Washington and California while he was in the Army.  After the service they returned to Texas to continue farming, ranching, and raising a family.  He said that he preferred driving a tractor to the cattle business.  He didn't have hobbies but at one time read four daily newspapers and followed the stock market.  He channel surfed TV but stopped for Western movies, Gunsmoke reruns & the Discovery Channel documentaries.
John is preceded in death by his parents, Henry and Lillie Fransen, sisters, Ruth J. Jones, Freda Grisham, brother, Eric Fransen, Sr. two baby brothers, Paul and Robert, sister-in-law, Ann Fransen and Uncle Carl Fransen.
He is survived by his daughter, Sharon (Gary) Wegner of Kenedy, sons, Kevin Fransen of Kenedy, Keith (Lee Ann) Fransen of Karnes City, Grandson, Jonathan (Becky) Fransen of Kenedy and sister Linda Fransen of Sweden and numerous nieces, nephews and cousins.
The Family would like to thank all the medical staff that cared for our father: Texas Home Health Hospice Staff, Dr. Dan Dugi, Otto Kaiser Memorial Hospital & Kaiser Home Health and a heartfelt thank you to our father's caregivers, Grace Hope, Mary & Sandy for their support and love.
Visitation will be Sunday, January 9, 2022 from 5:00pm to 7:00 pm at the Eckols Funeral Home Chapel in Kenedy.  Private Family Graveside Services will be Monday, January 10, 2022 at 11:00 am at the New Bremen Cemetery, Lenz, TX with Pastor Kelly Tankersley officiating.
Pallbearers: Kevin Fransen, Keith Fransen, Jonathan Fransen, Eric Fransen, Jr., Henry Jansen & Gary Wegner.
In lieu of flowers, memorials may be made to organization of their choice.